Finding the Perfect Wedding Venue What to Consider
Introduction
Ah, a wedding. It's the most special day of your life, and you need to make sure that it's absolutely perfect. And there's no better way to do that than by finding the right venue.
A wedding venue is simply any place where a couple can exchange vows in front of their loved ones. But picking one out isn't as easy as it sounds. No matter if your tastes are traditional or unique, there's a lot to consider when finding the perfect place to celebrate your big day.
First things first: You've got to know all the ins and outs of what makes a good venue. That's why I'm here to help! Here's everything you'll need to look out for when selecting the ideal wedding venue.
Factors to Consider When Selecting a Wedding Venue
Choosing the right wedding venue can be overwhelming, so it's important to consider all your options. Here are the key factors to take into account:
Location – No matter how stunning the venue is, it won't be any good if it's an inconvenient location. Think about the guests that will be attending and what type of location they're looking for. Are you looking for a picturesque countryside setting or a glamorous big-city event?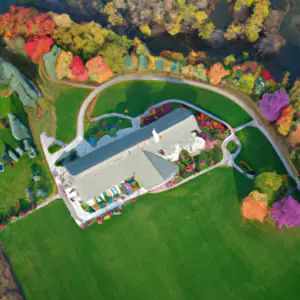 Size – You'll need a space that's large enough to accommodate all your guests, as well as any other activities you'll be doing during the wedding. Make sure you know the capacity of your desired venue before committing.
Budget – Costs can quickly add up when it comes to weddings, especially venues. Consider your budget and narrow down your list of potential venues to only those that fit into it.
Amenities – Not all venues offer the same amenities, so make sure you know exactly what's included in each one. Are there chairs and tables available? Do they have Wi-Fi and other tech amenities? What about lighting, air conditioning, and other items?
Style – There's no one-size-fits-all approach when it comes to choosing a wedding venue. Some venues may be more formal and traditional, while others may be less structured and more intimate. Make sure the style you choose fits your overall vision.
Food and Beverage Options – Obviously food and beverage are huge aspects of any wedding day. Consider whether your desired venue offers catering, or if you need to bring your own. Does the venue have an in-house bar? Is there a separate space for the cake and dessert table? These are important things to consider.
Tips for Choosing a Wedding Venue
Ah, wedding venues. Such an important part of planning for the big day – and yet, so easy to get wrong! When it comes to selecting a site for your special occasion, there are a few things you should keep in mind. Here are some tips to make sure you choose the perfect place:
First off, write down a list of must-haves. What do you absolutely need from the venue? Do you want a specific type of setting or ambiance? How about any extra amenities like music hookups or an outdoor terrace for a cocktail hour? Get all these must-haves on paper before you start visiting places.
Then go visit the venues you think could work. Don't just rely on photos online; seeing it in person is essential. After all, how else will you gauge if it really fits with what you've envisioned? Plus, you can meet with the staff and ask questions while you're there.
But don't take their word for it – read reviews too! Sure, they'll probably tell you only good stuff about the place, but what are unbiased people saying about it? Read up on third-party reviews and complaints to get a better understanding of the overall experience.
When it's time to pick the best one, have a few key questions handy. You know, like "What's your backup plan if something goes wrong the day of the event?" or "How early can we get into the space for setup?" These types of queries show you're serious about protecting your investment.
Bottom line, selecting the right venue takes some effort up front, but it'll be worth it in the end. Make sure you cover all the bases to guarantee your special day turns out just the way you imagined.
Conclusion
Selecting the right wedding venue is a huge decision and not one to be taken lightly. It's important to take your time in researching, visiting venues, and getting to know who you're working with. To make your decision easier, make a list of must-haves, take time to visit each venue in person, and read reviews from past couples. Don't forget to ask questions and address any concerns before signing on the dotted line. All in all, if you do your research and trust your gut, you'll be sure to find the perfect place to say "I do".
Selecting a Wedding Venue
What should I look for when buying a venue?
When it comes to selecting a wedding venue, the most important thing to consider is the atmosphere and ambiance. I'd look at factors like the size of the space, how well it suits the overall theme and design of your wedding, and how much decoration you need to do to make it your own. I'd also suggest considering the catering and catering options. You'll want to make sure that the food is something that can be enjoyed by all of your guests, as well as making sure that the venue can accommodate any dietary restrictions. Finally, you'll want to look at the overall cost of the venue and any additional fees, like catering, to make sure that you're getting the best deal for your money. With these tips in mind, you can rest assured that your wedding day will be a success!
What is the most common wedding venue?
If you're looking to lock down the perfect wedding venue, you've got lots of options. But the most common choice? It's gotta be a banquet hall.
Banquet halls come with everything you need to make the big day run smoothly: a large reception space, a dance floor, tables and chairs, plus a kitchen if you want to serve a sit-down meal.
But it's not just about the basics. Venues like these often have experienced staff who can make the planning process a cinch. Plus, most come with extras like AV systems and staging, and you'll have access to add-ons like floral arrangements and catering services.
And that's not all – hallway venues are also highly customizable. Many come with décor packages that can help you create the look and feel you've been dreaming of, and plenty of them will offer a variety of extra options like chocolate fountains or photo booths.
At the end of the day, selecting a wedding venue boils down to personal preference. But if you're looking for a classic, stress-free option, you can't go wrong with a good ol' banquet hall.
How do I decide what I want for my wedding?
Choosing a wedding venue is an incredibly important decision, and one that should be taken seriously. When selecting a wedding venue, there are a few key things to consider. First, determine your ideal budget. This will determine which venues are available to you. It's also important to consider the size of the venue. Will it be able to accommodate your guests? Another important factor to consider is the location of the venue. Will it be easy for your guests to get to? Additionally, think about the atmosphere of the venue. Does it match the theme and overall feel of your wedding? Finally, consider the amenities that the venue has to offer. Are there food and beverage options? Is there a dance floor or outdoor area? Taking the time to ask yourself these questions will help you narrow down your list of potential venues and make the selection process a little easier.
what to look for when selecting a wedding venue
Planning a wedding can be an overwhelming experience, so it's important to consider all the elements when selecting a venue. As someone who has helped couples find their perfect wedding venue, I can tell you there are a few key things to consider.
First and foremost, you'll want to think about the size of the venue. Does it match the number of guests you plan to have? Does it have enough space for a ceremony, drinks reception, meal and dancing? If the venue isn't big enough for all your needs, you'll definitely want to go elsewhere.
It's also vital to take into account the atmosphere of the venue. Consider the type of wedding you want to have. Does the venue match your vision? Will the style and decor work with the type of ceremony you want? Can you imagine having your ceremony and reception at that location? If the venue doesn't align with the kind of wedding you're looking for, then it's not the right fit.
The cost is also an important factor. Do the prices match your budget? Are there any hidden fees that you need to be aware of? Can you get a better deal by working with the venue on certain aspects of your wedding? Think about all these things before signing on the dotted line.
Finally, don't forget to check the reputation of the venue. What sort of reviews have couples who have held their wedding at the venue given? How have other couples experienced the venue? Doing your research and talking to past couples can help you gain valuable insights that can help you make sure you choose the right venue.