Planning an Unforgettable Wedding Reception – How to Make it Memorable
What better way to mark the occasion of a life-long commitment than with a top-notch wedding reception? Feelings of love and joy will fill the air, and the memories made at this momentous event will last a lifetime! Here's how to make your very own wedding celebration stand out from the crowd.
When it comes to creating an unforgettable wedding reception, you have to turn up the heat and get creative. Start by sprucing up the décor with unique colors, fun centerpieces, and cool lighting effects. Then amp up the energy with a live band or DJ, and never forget to add some interactive entertainment – karaoke, dancing, games…you name it!
It's also important to serve up some delicious food and drinks to keep guests satisfied throughout the night. Offer a wide selection of dishes to accommodate any dietary restrictions, and don't forget to provide signature cocktails and late night snacks as well. But don't forget the most heartfelt touch: give your guests something special to take home. Personalized gifts, edible treats, or anything else that'll put a smile on their faces as they head out the door.
With these tips firmly in mind, you'll be sure to throw a wedding reception no one will ever forget! Allow yourself to get creative and put your own spin on things. After all, it's your day – so make it one to remember!
Unique Decoration Ideas to Make Your Wedding Reception Unforgettable
If you're looking for ways to spruce up your wedding reception, you've come to the right place. Here's how to add some unforgettable pizzazz to your special day.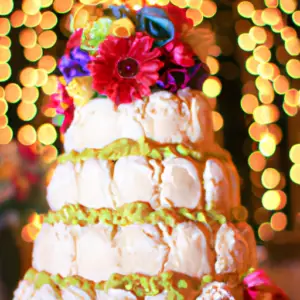 One of the simplest and most effective decoration ideas is a color theme. Pick two or three colors that look great together and carry them throughout the decorations. Whether it's floral arrangements, tablecloths, or even the bridal party's wardrobe, choosing a palette makes it easier to create a cohesive look.
For an extra-special touch, consider customizing your table centerpieces. You could fill vases or mason jars with flowers, homemade jams, treats – the possibilities are endless! Or, choose something more creative like an old lantern or vintage teacup. Adding a personal touch to your tables will make your guests feel extra special.
Don't forget to brighten up your reception with special lighting. Twinkling fairy lights, shimmering candles, and spinning disco balls – whatever your style, you can find a way to light up the room! And if you really want to go all out, rent a projector and show off special photos or videos from your relationship.
Delicious Food and Drinks That Will Keep Your Guests Talking For Weeks
If you want your wedding reception to be unforgettable, then you need to think carefully about the food and drinks. While it's important to ensure that your guests' dietary restrictions are all taken into account, you should also make sure to add some special touches that everyone can enjoy.
For starters, why not consider creating some signature cocktails? It could be as simple as making a twist on an old classic like adding a dash of strawberry puree to a cosmopolitan, or something more elaborate using rare ingredients. Whatever the case may be, this is a great way to give your guests an amazing experience that they won't soon forget.
Another unique idea is offering late-night snacks. This isn't something that is seen very often at weddings, but it's sure to be appreciated by your guests. Some popular options include gourmet popcorn, sliders, and mini-desserts.
Finally, don't forget to provide thoughtful favors to your guests. Why not give them personalized gifts or edible treats? This will show that you care and want to extend the celebration outside of the reception.
No matter what type of food and drinks you choose to serve your guests, it's always a good bet to go the extra mile. That's sure to keep your friends talking about your wedding for weeks afterwards!
Thoughtful Favors
I'm a big believer in thoughtful favors. Sure, you could go with the classic cube of Jordan almonds—but why not kick it up a notch? You don't have to break the bank to impress your wedding guests; thoughtful favors come in all shapes and sizes. Here are some ideas for memorable gifts that won't leave a hole in your wallet.
Let's start off with personalized gifts. Your guests will love getting something with their name on it—it'll be a little reminder of your special day. It doesn't have to be anything fancy; monogrammed handkerchiefs, keychains, and coffee mugs offer a simple-yet-elegant touch. Each gift will become a treasured keepsake, and your guests will feel extra-special!
If you're looking to get creative, edible treats make fab favors. Who can resist a dessert like speciality chocolates, cupcakes, or cookies? Not me! You could also design your own macaroons, fudge, or bonbons. Flavored popcorn is also a tasty option, and it doubles as décor. Whatever your sweet tooth craves, there's a favor for every palate.
Giving your guests meaningful favors that show your appreciation is a great way of saying "Thanks for coming!" Spend a little time exploring your options and you'll find just the right thing—your guests will be delighted, and you won't have to blow the budget. Enjoy!
FAQs About Wedding Receptions
What do most brides forget?
As a marriage counselor and someone who's been through the process themselves multiple times, I can tell you that the one thing most brides tend to forget is the marriage license. It may seem like a small thing, but it's essential to legally wed. If you don't have the license, you can't get hitched! Pretty ironic, right?
The wedding license is typically obtained from the county clerk's office, and most often costs less than $100. It's important to read the instructions on the application carefully to ensure you've included all the required information. Even if you're a pro at this whole wedding thing, it's still easy to overlook the marriage license. That's why you should make sure it's the first thing you check off your to-do list.
In addition, it's important to make sure that you get your license well before the wedding day. While some states allow you to obtain a license the same day, others require a waiting period. It's always best to be proactive and take care of this as soon as possible. That way you won't be scrambling at the last minute to get the license squared away.
At the end of the day, the marriage license is an oft-forgotten yet vital part of the wedding planning process. So make sure to double-check that it's taken care of before the big day, and trust me – you'll thank yourself later!
What should a reception always remember?
As a receptionist, it's essential to remember to always keep a friendly and professional attitude. This means greeting and conversing with clients in a manner that's welcoming, polite and attentive. You should also make sure to ask for detailed information from each visitor, and to have a system in place so that no one slips through the cracks. Additionally, it's important to answer any questions and respond to any requests quickly and accurately. Lastly, don't forget to double-check any scheduled meetings or appointments, to ensure that everything is running on time. It may sound like a lot, but it's crucial to stay organized and efficient when it comes to reception work – it'll make a big difference in the long run!
What should you not do at a wedding reception?
At a wedding reception, it's important to keep certain behaviours in check. As a guest, I'd advise you to not get too rowdy – don't be the one drunkenly singing at the top of their lungs, or flirting with the bride and groom's guests. Sure, having a few drinks is fine, but don't let the alcohol take over and ruin the event for everyone else. And don't forget to be polite: the most important rule of the wedding reception is to always respect the bride, groom, and their attendants. Avoid saying anything that could cause tension or hurt someone's feelings, and don't make any loud noises during the ceremony or speeches. Last but not least, don't forget to turn off your phones; that way, you won't be distracting the couple or taking away from their special day.
ideas for an unforgettable wedding reception
To make your wedding reception unforgettable, it's important to do something unique that reflects the couple's personalities. One idea is to create a custom cocktail that's inspired by the bride and groom's favorite drinks. This will be a special treat that all guests can enjoy and remember. And don't forget to serve appetizers – preferably something savory and unexpected. Buffet stations with various types of food and touch-screen food ordering stations can also be fun.
On the entertainment side, hire a live band that specializes in a genre of music that's suited to the couple's taste. As people dance and drink, they'll be able to easily recognize the sound and feel of the music. Don't forget to include small touches that bring the couple's love story to life, like a photo booth where guests take pictures of themselves in fun poses. You could also include a slide show of pictures from the couple's relationship, from the time they started dating to the present.
Lastly, provide shaded areas for guests to escape the heat if you're hosting the event outdoors. You could also set up a photo booth and props, such as hats and funny signs, for guests to use for silly pictures. This will create a fun atmosphere, and guests will be sure to remember the wedding reception for years to come!