Planning an Unforgettable Wedding Tips & Ideas
Let's Get This Party Started: Introducing the Secrets to a Truly Unique and Memorable Wedding!
Hey there, lovebirds! Planning a wedding can be both exciting and overwhelming, but don't worry, I've got you covered! A unique and memorable wedding is every couple's dream, and I'm here to help you make it a reality. A wedding that everyone will be talking about for years to come!
First things first, let's define what a unique and memorable wedding is. To me, it's all about infusing your personality, style, and values into every detail of your big day. It's about creating an experience that is not only beautiful but also reflects who you are as a couple. In other words, it's not your typical cookie-cutter wedding!
So, let's dive into the secrets of planning a wedding that is uniquely memorable!
Picking Your Venue – Let's Get Married in Style!
When my partner and I started planning our wedding, one of the first things on our list was deciding on a venue. We knew that the location was going to set the tone for the rest of the celebration, and we were determined to find the perfect spot to say our vows and party the night away.
When it comes to picking a venue, there are a lot of factors to consider. First and foremost, you want to make sure the space is large enough to accommodate all of your guests comfortably. You'll also want to take the location into consideration – is it easy to get to? Is it close to accommodations for out of town guests?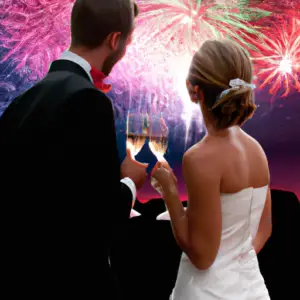 Another important factor to consider is the overall style and atmosphere of the venue. Do you want a rustic barn wedding or an elegant ballroom affair? Make sure you choose a venue that matches your theme and vision for the day.
Don't forget to look into the amenities and services offered by the venue. Do they provide tables, chairs, and linens? Can they assist with set up and tear down? Is catering provided on site, or will you need to arrange for outside vendors?
Finally, keep your budget in mind when selecting a venue. It's important to find a space that fits within your financial constraints, but don't be afraid to negotiate on price or consider alternative options like holding the ceremony and reception at different locations.
Choosing the right venue can be a daunting task, but with careful consideration and expert advice, you can find the perfect space to make your wedding truly unforgettable.
Make Your Wedding Unique and Memorable with the Perfect Theme
Choosing a theme for your wedding is one of the most important decisions you will make in the planning process. It sets the tone for your big day and helps bring all the elements together to create a cohesive and memorable experience.
When selecting a theme, it's important to consider your personal style and interests as a couple. Do you love rustic, outdoor settings or prefer a more modern and minimalistic approach? Perhaps you have a shared passion for travel or a favorite era in history that you want to incorporate into your décor and atmosphere.
Don't be afraid to get creative with your theme either. Think outside the box and consider ideas like a masquerade ball, enchanted forest, or even a circus-inspired celebration. The key is to choose a theme that truly reflects you and your partner's personalities and makes your wedding day that much more unique and memorable.
Remember, your theme should extend beyond just the décor and into other aspects of your wedding, like choosing your wedding attire or music. Keep your theme in mind when making decisions throughout the planning process so that all the elements work together harmoniously to create a truly stunning and unforgettable day.
How I Budgeted for My Dream Wedding
Let's be real, weddings can be expensive. From the venue to the dress and everything in between, the costs can add up quickly. But don't let that deter you from having the wedding of your dreams. Here are some tips on how I created a budget for my own unique and memorable wedding:
Get Realistic
First things first, sit down and determine how much you can realistically afford to spend on your wedding. Take into account your current financial situation and any future expenses you may have (i.e. buying a home or having a child). Once you have a set budget, it's easier to make decisions and prioritize what's most important for your big day.
Do Your Research
Research is key when it comes to wedding planning. Look at various venues and vendors to compare prices and determine what fits within your budget. Don't be afraid to negotiate with vendors to get the best deal possible.
DIY where you can
If you have a creative side, put it to use and DIY certain décor and details for your wedding. From centerpieces to invitations, there are plenty of ideas online to give you inspiration. Not only will it save you money, but it adds a personal touch to your special day.
Be Selective
Having a smaller guest list can also help keep costs down. Remember, it's about quality over quantity. Invite those who mean the most to you and your significant other. Additionally, prioritizing what's most important to you (i.e. photography or food) can also help stay within your budget.
Stay Organized
Lastly, staying organized throughout the wedding planning process can help prevent overspending. Create a spreadsheet or utilize a wedding planning app to keep track of expenses and payments. This also helps ensure you don't forget any important details.
Remember, a dream wedding doesn't have to break the bank. With a little planning, research, and creativity, you can have a wedding that is both unique and memorable.
Choosing the Food: Let's Chow Down!
When it came to selecting the food for our wedding, my partner and I knew we wanted to offer something that would please everyone but was also reflective of our unique tastes. We began by researching local caterers and scheduling tastings. It is important to remember that the food you select will be one of the highlights of your wedding, so take your time! We opted for a buffet-style setup to give guests a variety of options, and we also incorporated dishes from our cultural backgrounds. Our caterer was able to work with us to create a menu that reflected our personalities and preferences while also being accessible to all of our guests. One tip for choosing the food for your wedding is to consider the time of year and the location. For example, if you're hosting a wedding in the summer, lighter and fresher options such as salads and fruits might be more appropriate. Similarly, if you're having a beach wedding, seafood might be a great addition to the menu. Another consideration is the dietary restrictions of your guests. Make sure to include vegetarian, vegan, and gluten-free options so everyone can enjoy the meal. You can also ask your caterer to provide food stations that accommodate different dietary needs. Overall, don't be afraid to let your taste buds lead the way in choosing the food for your wedding. With the help of expert caterers and a little bit of creativity, you can create a menu that not only reflects your personality, but also leaves a lasting impression on your guests.
Explore the Perfect Décor to Compliment Your Theme
Now that you've selected your dream venue and decided on your theme, it's time to dive into décor options that will make your wedding unforgettable. From classic floral arrangements and elegant lighting to quirky centerpieces and personalized signage, there are endless possibilities to choose from.
One of my favorite ways to add a unique touch to your decor is to incorporate personal elements that are special to you and your partner. Display favorite photos or mementos on your guest book table, or use family heirlooms as centerpieces. These small touches can make a big impact and create a warm and welcoming atmosphere for your guests.
When it comes to creating a cohesive look, consider the color scheme and overall aesthetic of your theme. If you're going for a rustic vibe, choose natural elements like wood and greenery. Or, opt for bold and bright colors for a whimsical theme. Whatever your style, make sure it's reflected in every detail of your décor.
Another trend that's been gaining popularity is interactive décor. This can include photo booths, DIY stations, or even lawn games. Not only do these elements provide entertainment for your guests, but they also create great photo opportunities that you'll cherish for years to come.
Finally, don't be afraid to mix and match styles to create a truly unique look. Combining vintage and modern elements, or incorporating unexpected textures and patterns, can add an element of surprise and excitement to your decor.
Remember, your wedding is a reflection of you and your partner, so make sure your décor choices showcase your personalities and love story. With a little creativity and a lot of heart, your wedding will be a one-of-a-kind celebration that your guests will never forget.
"Hiring the Right Vendors: The Key to a Perfect Wedding Day"
When it comes to planning a wedding, there are many important decisions to make. But perhaps the most crucial one is selecting the right vendors to help bring your vision to life. After all, these professionals will be responsible for creating the atmosphere, providing the food, capturing the memories, and more. So, how can you ensure you make the right choice?
First and foremost, do your research. Ask for recommendations from friends, family, and wedding planners, and then do a thorough online search. Look at reviews and portfolios, and make sure to check out their social media pages. You want vendors who are experienced, reliable, and have an aesthetic that aligns with your own.
But it's not just about their skills and portfolio – personality matters too. Meet with each vendor in person or via video call and see if you click. Do they "get" your vision? Are they easy to communicate with? Do they seem excited about the job? These are all critical factors that will affect the success of your wedding day.
Remember to also consider logistics. Ask about their availability on your wedding date, their fees, what's included in their package, and any additional charges for things like overtime or travel. Get everything in writing so that you have a clear understanding of what you're agreeing to – and avoid any hidden surprises.
Lastly, don't forget about chemistry. Your vendors will be working with you for months leading up to the wedding and throughout the big day itself. So, make sure they are friendly, flexible, and able to work well under pressure. With the right vendors in place, your wedding day is sure to be as perfect and memorable as you always imagined.
8. Final Tips: Here's What I Learned Planning My Own Unique and Memorable Wedding
Planning a wedding isn't easy. Trust me. I've been there, and I have a few tips to share that can help make your wedding day as memorable and unique as possible.
First off, remember that this is your day. Don't let anyone else tell you how to plan your wedding. Do things your way, even if that means breaking with tradition. We made our grand entrance to our reception by doing a choreographed dance routine to our favorite song. It was fun, it was memorable, and it was very "us."
Secondly, don't settle for the first vendor you meet with. Shop around and get quotes from multiple vendors for each category. Not only can this save you money, but it can also help you find the right vendor who aligns with your vision. It's also important to read reviews and ask for referrals from friends and family.
Another tip is to add personal touches throughout the day. I made my own centerpieces and table decorations, using old family photos and favorite quotes. I also created a photo booth area with fun props that matched our wedding colors. These little touches really helped bring our personalities into the day.
Finally, don't forget to take a moment to soak it all in on the big day. It goes by fast, so try and take mental snapshots and enjoy every moment. This is a day you'll remember forever, so make it as unique and memorable as possible. Good luck!
That's a Wrap!
Well folks, we made it! Your wedding day will come and go in the blink of an eye, but the memories will last a lifetime. I hope that this guide has been helpful in ensuring that your special day is both unique and memorable.
Remember to take the time to enjoy the moment and soak it all in. You've put in a lot of hard work and planning, now it's time to sit back, relax, and let the magic happen.
As a final piece of advice, don't forget that at the end of the day, the most important aspect of your wedding is the love you share with your partner. Whether things go perfectly according to plan or not, cherish the time spent with your loved ones and the memories that you create.
So, go ahead and dance the night away, savor every bite of your wedding cake, and most importantly, bask in the love that surrounds you on your special day. Congratulations, and cheers to a lifetime of love and happiness!
FAQs for Wedding Planning
What are the 3 most important things you want to remember from your wedding day?
Hmm, that's a tough one! As an AI language model, I have no personal preference when it comes to weddings. However, I can say that there are a lot of aspects to consider when planning a unique and memorable wedding! But, if I had to choose the top three things that I want to remember, they would be: 1. The atmosphere: I want to remember the ambiance of my wedding day. The decorations, lighting, music, and overall vibe should create a magical and unforgettable atmosphere. To achieve this, I might want to consider incorporating unique elements that reflect my and my partner's personalities and interests. For example, I might choose a non-traditional venue or create a theme that showcases our favorite hobbies. 2. The people: I want to remember the people who shared this special day with us. Our loved ones play a huge role in making our wedding memories so meaningful. I want to make sure that everyone feels included and appreciated by providing engaging experiences and thoughtful touches throughout the day. This could include personalized favors, interactive photo booths, or special moments that honor our families and friends. 3. The moments: I want to remember the special moments that stand out from the rest. Our wedding day will be a whirlwind of activity, but I want to make sure that we take time to pause and appreciate the little details that make it unique. From the first look to the final goodbyes, I want to cherish every moment with my partner and savor the memories for years to come. Planning a wedding can be overwhelming, but prioritizing these three elements can help focus your energy and create a truly memorable experience for everyone involved.
How do you make wedding memories?
Well, let me tell you, friend, there are few things more important than making sure your wedding day is unforgettable. First off, don't be afraid to think outside the box when it comes to planning. Maybe you and your partner share a love of a certain movie or activity; why not incorporate that into your theme or decorations? Trust me, your guests will appreciate a wedding that isn't cookie-cutter. Next, consider investing in a unique experience that your guests will remember long after the big day. For example, you could hire a caricature artist or have a themed photo booth. Lastly, don't forget the power of music! A great DJ or band can really set the tone and keep people dancing all night long. Remember, this day is all about you and your partner – make it stand out!
How do I make sure my wedding is timeless?
Well, let me tell you, planning a wedding can be stressful, but making sure it's timeless is a whole other ballgame. From my experience, I've learned a few tips. Firstly, choose a classic color scheme that will never go out of style. This could be anything from ivory and gold to navy and blush. Secondly, opt for timeless wedding attire. Choose a simple, elegant wedding dress and a classic suit for your partner. Choosing classic attire will ensure that your wedding photos will never look dated. Thirdly, incorporate personal touches that are unique to you and your partner. Whether it's a favorite song or a family tradition, adding personal touches will make your wedding memorable and stand out. Lastly, hire a professional photographer who can capture your special day in a timeless way. They can help with poses and lighting to make sure your photos are never dated.