Choosing a Wedding Photographer Tips and Tricks
Hey ya'll! So, you've just said "yes" to the love of your life, and now it's time to plan that big day. One of the toughest decisions when it comes to your wedding is picking the photographer. Sure, you could get a friend to take some photos, but think about it: Your wedding day will be here and gone in a flash, so don't you want someone who can capture those precious moments forever? That's why hiring a professional photographer is key! In this blog post, I'm gonna show you why you should hire a pro and what questions to ask before you do, as well as discussing other important things to remember when choosing a wedding photographer.
The Importance of Hiring a Professional Photographer
When it comes to your special day, you deserve nothing less than the best. Hiring a professional wedding photographer ensures that you'll get stunning, high-quality photos you can cherish forever. An experienced photographer knows how to capture every detail of your big day perfectly and will be reliable from start to finish.
A professional is a step above an amateur or novice photographer. Not only will they have the technical experience needed for the job, but their professionalism goes beyond the quality of work. They have a portfolio that will speak for itself and industry knowledge to help guide you through the photography process. They also know exactly what poses and angles work best to make your wedding photos stand out.
Furthermore, an experienced photographer will be able to anticipate any issues that might come up during your special day. They should also be able to use their expertise to adjust other elements of their photography, such as lighting and composition, to suit the environment and produce even more beautiful photos.
Hiring a professional wedding photographer is the best way to ensure you get the most beautiful wedding photos possible. With their unique skillset and attention to detail, they're sure to make your photos shine for years to come.
Questions to Ask Before Hiring a Wedding Photographer
When it comes to picking the perfect wedding photographer, it's important to ask the right questions. After all, your big day is something you'll want to remember for years to come! From experience to style and cost, here are the key things to bear in mind when narrowing down your search.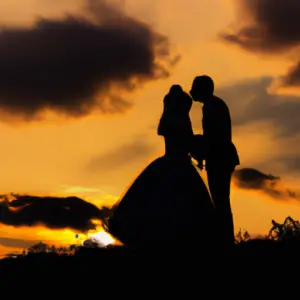 First up, consider the experience of the photographer you're looking at. Have they shot weddings before? If so, where? What's their portfolio like? It's worth asking for references from couples who've used them previously too, just to get a better idea of their work.
Also, don't forget to check out the style of the photographer, as this will usually be visible in their portfolio. Are they into intense documentary-style shots, or do they prefer more radiant, artistic imagery? Do they off black and white options? Do they offer any other speciality services that would appeal to you?
The last question – and probably the biggest deciding factor when hiring – is cost. How much does the photographer charge per hour? Are there additional fees or charges associated with their services? Can they provide discounts or packages if you book with them?
Before signing on the dotted line, make sure you get an agreed estimate from the photographer. That way, you won't have any surprises when it comes time to pay the bill.
Things to Consider When Hiring a Wedding Photographer
So you're ready to hire a wedding photographer to capture one of the most momentous days in your life. Yippee! There are plenty of expert tips and tricks to make sure you choose the right person to bring your wedding day vision to life and to help create beautiful memories that will last a lifetime.
When scouting for a photographer, first consider what type of package they offer. Some offer just a few hours of coverage and some offer full day coverage with multiple photographers. Choose the package that best suits your needs. It's a good idea to look at the photographer's online portfolio and look for reviews or references from previous clients.
Are you looking for someone who is more traditional or creative? You want a photographer whose style aligns with yours. Ask them questions about their experience and samples of past work. Do you want posed pictures or are you looking for something more candid? Does the photographer understand how to use light or shadow? Is cost important to you?
These are all important things to take into account before hiring a wedding photographer. It's the little details that can make a difference and will give you piece of mind when it comes to finding someone who truly gets your vision. Put some thought into who you choose and remember: this is your special day and you deserve nothing less than the perfect result!
Conclusion
Well, here we are – the final stretch of the journey to finding the perfect wedding photographer. It's been quite a whirlwind, but I know you're up for the task! Just remember: the most important factor is finding someone whose style, experience, and cost best meets your needs. After finding a few photographers who fit the bill, it's worth considering what kind of photography package they offer, glancing through their online portfolio, and reading reviews or references.
I'm sure you'll be able to find the right wedding photographer – just take it one step at a time and don't rush the process. Now, c'mon – tie a bow on all this research so you can enjoy the big day without any hiccups.
Q&A on Wedding Photography
What makes good wedding photographer?
When choosing a wedding photographer, there are a few factors to consider. First and foremost, look for someone who knows the ins and outs of the wedding photography industry. You want someone who is experienced and knowledgeable about how to capture the perfect moments from your special day. You should also make sure the photographer you choose is reliable and can provide quality photos that you'll cherish for years to come.
In addition to experience and reliability, you'll want to look for creativity and innovation when picking a wedding photographer. You want somebody who will come up with unique angles and perspectives to make your special day truly memorable. You want someone who understands how to use light and color to create beautiful, timeless images.
It's also important to find out if the photographer can provide a variety of styles of photography. You may want a few traditional poses, but you also want a photographer who is willing to experiment with different ways of capturing the moment. Ask the photographer about their experience in different styles of wedding photography, such as candid, artistic, and vintage.
Finally, make sure the photographer you choose has good customer service. You want someone who is responsive to your questions and willing to work with you to ensure that your wedding photos meet your expectations.
What should I tell my wedding photographer?
I always tell couples that the single most important thing when it comes to choosing a wedding photographer is to make sure you connect with them on a personal level. It's important to know that you can trust the photographer to capture the special moments of your day, and that they'll be able to capture the feel of the day in a way that you'll treasure for years to come.So when you're looking at different wedding photographers, here are some key things to consider:First, have a look at the photographer's portfolio and reviews. Do they have a style that you like? Are their photos consistent in quality? Do the reviews point to a reliable, professional experience?Second, make sure to chat with the photographer in advance of the big day. You want to make sure that you have a rapport and that they understand what you're looking for. Make sure to ask them about the types of camera equipment they use and how many photos they'll be taking and how long the editing process usually takes.Third, ask what their turnaround time is and what you'll receive as the final product. Will you get high-resolution digital images that you can print and share, or will you get a physical album with printed photos? Make sure you know up front exactly what you'll receive.Finally, find out if the photographer is willing to accommodate any special requests you might have – extra shooting time, specific poses that you'd like captured, etc. When all of your needs have been addressed and you feel comfortable with the photographer, you'll know that you've found the right one for your wedding day.
What is the best way to choose wedding photos?
When it comes to choosing a wedding photographer, the options can seem overwhelming. But if you know what to look for, you can find the perfect photographer for your special day.
First and foremost, you want to make sure the photographer has the right skills to capture your special day. Look for an experienced photographer who has a portfolio of weddings they have shot before. This will give you a better idea of their style and what they bring to the table. It also ensures they are comfortable working with a wide range of lighting and environments.
Once you've narrowed down your list of photographers, be sure to ask them questions. Find out their approach to the wedding day, how they work with the couple, and what their workflow looks like. Don't be afraid to ask them if they have any special packages or extras. It's also important to make sure you are comfortable with the photographer and their pricing.
Lastly, make sure you read the photographer's contract carefully. This is a legally binding document, so you'll want to make sure you understand everything that is included in the package. Check for any hidden fees and make sure you are comfortable with any restrictions they have in place.
Choosing a wedding photographer is an important decision, but it doesn't have to be intimidating. With a little research and the right questions, you can find the perfect photographer for your special day.