Uncover the Benefits of Mineral Makeup for Your Skin
What's the deal with mineral makeup anyway?
Okay, so here's the deal. Mineral makeup is a type of makeup that uses finely milled minerals (like zinc oxide, titanium dioxide, and iron oxides) instead of traditional ingredients like talc, oil, and fragrances. The idea is that mineral makeup is healthier for your skin and provides a more natural look.
Beyond the hype, there are actually some benefits to using mineral makeup. For one thing, it's less likely to clog your pores, which can lead to breakouts and irritation. It's also less likely to cause allergic reactions, since it doesn't contain common allergens like fragrances or preservatives. Plus, mineral makeup typically lasts longer than traditional makeup, which can help you save money in the long run.
Different Skin Types and Benefits of Mineral Makeup: Which One is Best for Me?
If you've been exploring the world of beauty products, chances are you've heard of mineral makeup. It's a growing trend that's showing no signs of slowing down anytime soon. But with different skin types like oily, dry, combination, and sensitive, it can be overwhelming to know which product is best for your skin. Luckily, mineral makeup is versatile enough to work with all skin types while providing unique benefits that aren't found in traditional makeup products.
Oily Skin
For those with oily skin, mineral makeup is a great choice. Unlike traditional makeup products that can clog pores, mineral makeup doesn't contain any harmful ingredients that cause breakouts. Instead, it's made with natural minerals like titanium dioxide and zinc oxide that absorb excess oil, reducing shine and leaving you with a matte finish that lasts all day.
Dry Skin
If you have dry skin, you may shy away from using powder cosmetics because they can make your skin even drier. However, mineral makeup is the exception. The minerals used in these products are finely milled, creating a lightweight and breathable coverage that won't settle into fine lines or wrinkles. Additionally, mineral makeup is free of harsh chemicals and synthetic ingredients that can further dry out your skin, making it a healthy option for all skin types.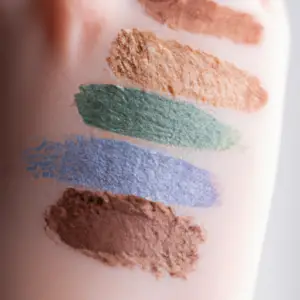 For those with combination skin, mineral makeup can be a game-changer. It balances your skin's natural oils, so your t-zone doesn't get too oily while still keeping the dryer areas hydrated. Mineral foundations provide buildable coverage to conceal blemishes, pimples, and scars without clogging pores or suffocating your skin.
Sensitive Skin
If you have sensitive skin, mineral makeup could be the perfect solution. It's free of harsh ingredients like fragrances, preservatives, and chemicals that can irritate sensitive skin. Mineral makeup often contains a few simple, naturally-derived ingredients that are gentle and effective for all skin types. It can be a lifesaver for those with rosacea, acne, or inflammation as it won't trigger outbreaks at all.
General Benefits of Mineral Makeup
Okay, so let's break it down. Mineral makeup is made from natural ingredients. So, it's free from all that yucky stuff that may make your skin break out or look bad, like chemicals and preservatives. Yup, that's right! The natural properties of the minerals mean that they don't clog pores, which can help keep your skin clear and acne-free.
Also, mineral makeup usually contains zinc oxide and titanium dioxide, which provides sun protection, helping prevent skin damage and signs of aging. Plus, it's non-comedogenic, meaning it won't aggravate oily or acne-prone skin. So you can wear it all day long without worrying about your pores getting clogged or your skin breaking out, isn't that great?
Furthermore, because mineral makeup doesn't contain fillers or other chemical ingredients, it can be applied to a wider range of skin types. This results in a more natural, even coverage and a healthier appearance overall. Additionally, mineral makeup typically lasts longer than traditional products, so you can enjoy a fresh-looking face all day long.
So whether you're dealing with oily, dry, combination, or sensitive skin, you can't go wrong with mineral makeup. It provides benefits you just can't find in other types of makeup. If you want to learn more about finding the right makeup for your skin tone, check out this post here, it's full of useful tips and advice!
Specific Benefits for Each Skin Type
Now, let's take a closer look at how mineral makeup can benefit each skin type individually. As someone with oily skin, I know firsthand the struggles of finding makeup that won't slide off my face by lunchtime. The oil-absorbing properties of mineral makeup make it a great choice for individuals with oily skin. By absorbing excess oil, mineral makeup helps to control shine and keep your makeup in place throughout the day.
If you have dry skin, you may find that traditional makeup products can leave your complexion looking flaky and dull. Mineral makeup contains ingredients like mica and titanium dioxide, which help to reflect light and give your skin a healthy, radiant glow. Plus, the lightweight formula of mineral makeup won't weigh down your skin or accentuate dryness.
Combination skin can be tricky to navigate when it comes to makeup. However, mineral makeup can provide a happy medium for those with combination skin. This type of makeup can be layered to provide more coverage in areas that need it while still allowing your skin to breathe.
For those with sensitive skin, conventional makeup products can cause irritation and breakouts. Mineral makeup is gentle and non-comedogenic, meaning it won't clog your pores or cause skin irritation. This type of makeup is also free of synthetic fragrances and dyes, which can be irritating to sensitive skin.
Tips for Choosing Mineral Makeup
As a makeup artist, I have tried many different mineral makeup products. Here are some tips I have learned to help you choose the right mineral makeup for your skin:
Firstly, consider your skin type. If you have oily skin, look for mineral powders that are oil-free. For dry skin, choose a mineral foundation with moisturizing ingredients such as shea butter or aloe vera. If you have combination skin, look for a mineral foundation that can balance both oily and dry areas. Sensitive skin types should choose mineral makeup that is free of fragrance and other potential irritants.
Secondly, think about the level of coverage you want. Some mineral makeup products are lightweight and give a natural look, while others provide full coverage. If you prefer a natural look, go for mineral powders that provide sheer coverage. If you need more coverage, choose a liquid or cream mineral foundation.
Thirdly, choose a shade that matches your skin tone. Some mineral makeup brands offer a range of shades, while others have a more limited selection. It's important to test the shade on your face or neck before purchasing. Swatch it on your jawline and see how it looks in natural light.
Lastly, research the brand before buying. Look for brands with a good reputation for quality and safety. Check the ingredients list to ensure they are free of harmful chemicals and are suitable for your skin type. Reading reviews can also help you get an idea of how the products perform.
By following these tips, you can find the perfect mineral makeup for your skin needs. Remember to take your time and experiment to find what works best for you!
Conclusion: The Final Word on Mineral Makeup
After researching and exploring the benefits of mineral makeup, I am convinced that it is a great addition to any beauty routine. From its natural composition to its ability to promote healthier skin, mineral makeup is definitely worth trying.
When it comes to choosing mineral makeup, it is important to consider your skin type and individual needs. Dry skin types may require a formula with more moisture, while oily skin types may prefer a powder formula. Combination skin may benefit from a versatile product that can cater to both dry and oily areas. Those with sensitive skin should search for products that use gentle ingredients that won't irritate the skin.
Overall, mineral makeup is a great way to achieve a natural and healthy look while keeping your skin free from harmful ingredients. It's important to do your research and choose a product that works best for you. Don't be afraid to try different brands and formulas until you find the perfect fit for your skin type and beauty needs.
In conclusion, if you want to enhance your beauty and improve your skin health, I highly recommend trying mineral makeup. Its benefits are numerous and can lead to a more natural, radiant look that you'll love.