The Definitive Guide to Tailoring Services
Ah, tailoring services. Nothing quite compares to the feeling of having a well-tailored outfit. Whether it's for a special occasion or just 'cause, knowing that the fabric, fit and overall look of an outfit is absolutely perfect just takes your style up a notch.
There are lots of different benefits to getting your clothing tailored by a professional. Firstly, you know that your choice of material will be of the highest quality and won't show signs of wear and tear within a few weeks. Secondly, you have the assurance that the fit will be perfect for you – no awkward tugging at the seams here! And thirdly, you can be sure that any detailing like hems, stitching and buttons will be perfectly matched with the occasion or event.
So, if you're considering investing in tailor-made garments, check out these tips on how to find affordable services without compromising on the quality of the finished product.
Tips on How to Find Affordable Tailoring Services
Looking for a tailor doesn't have to be hard – or expensive. In fact, you can use some simple tactics to score low-cost tailoring services.
First things first: do your research. Check out local shops in your area and get an idea of their prices and services. Don't forget to look online, too! There are plenty of options out there if you're willing to put in the time.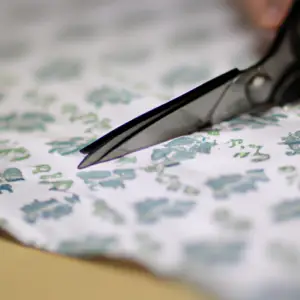 Hey, word-of-mouth is also a great way to find reliable tailors at reasonable rates. Ask your friends and family who they recommend. They might have some sweet deals to share with you!
And don't forget to keep an eye out for discounts and specials. Look out for coupons and other promotions that can help you save even more. It's always worth taking a few minutes to search around.
Questions to Ask Before Hiring a Tailor
If you're looking for tailoring services, it pays to ask the right questions and do your research before engaging a tailor. To help you out, here are a few things to consider before selecting the perfect tailor for you.
First, what kind of fabrics and garments can they work on? Are they experienced in handling delicate materials like silks, or do they specialize in denim and wool? Also, how long have they been in business? A good tailor usually has years of experience and knows their craft inside and out.
Second, is it easy to communicate with them? Do they take the time to explain the process to you and answer your questions thoroughly? If not, it's likely best to keep looking, as communication and understanding your needs are essential components of a successful tailoring experience.
Third, inquire about their turnaround times. Some tailors deliver results in as little as 24 hours, while others may require several weeks to finish the job. Make sure you know exactly when the job will be completed before signing anything.
Lastly, don't forget to ask about pricing. Many tailors offer competitive rates, but some may charge more depending on the type of fabric used. Asking in advance avoids any surprises down the road!
So there you have it, folks–a few key questions to ask before selecting the perfect tailor. Doing your research and asking the right questions will help ensure you get the services you want at a great price.
Conclusion
Well, that's all folks! As I said at the beginning, tailoring services can be a fantastic way to ensure your clothing fits perfectly and looks great. By doing some research and being wise with your spending, you can find an affordable tailor who can help you look your best. Ultimately, it's important to ask the right questions before hiring a tailor; this will help ensure that you get quality service for a reasonable price.
Remember, the clothes you wear says a lot about you; why not make sure they fit just perfectly? With the right tailor, you can do just that and look your absolute best. So don't wait any longer! Get out there and find the perfect tailor for you.
Tailoring Services FAQ
Why does tailor cost so much?
It's no secret that tailor-made garments typically come at a price. After all, they're tailored to fit you perfectly and often include luxurious fabrics and quality construction. But why are they so expensive?
Well, there's a lot more to it than just the fabric and construction. There's the overhead cost of running a tailor shop and hiring qualified tailors, plus the materials and labor costs associated with hand-stitching every piece. On top of that, there's the expertise and knowledge of the tailor—their understanding of different fabrics, cuts, and patterns, as well as their familiarity with a customer's unique measurements. All these costs add up, and the result is an investment in a quality garment that will likely last for years.
In the end, it's really up to you to decide what your clothing budget should be. But when you factor in the comfort, fit, and longevity of tailor-made garments, it's easy to understand why they cost what they do. So don't be scared away by the price tag—if you can afford the investment, you should definitely consider it.
What is the difference between a tailor and a seamstress?
As a journalist with years of experience covering fashion, I can tell you that there's a definite difference between a tailor and a seamstress. A tailor is typically someone who works with menswear, making alterations and custom fits for clothing items like suits or jackets. A seamstress, on the other hand, usually works with womenswear and may specialize in hand-sewn pieces like dresses or even lingerie. A good tailor or seamstress can take a garment from drab to fab; they can add extra details like buttons or pockets, or even change the silhouette of an item. It takes real skill to be able to manipulate fabric like that. So, when you're looking for someone to do alterations on your clothes, make sure you find the right person for the job – otherwise, you could end up with a wardrobe disaster!
how to find affordable tailoring services
As a savvy shopper, I've discovered some tips and tricks to finding affordable tailoring services. Firstly, do your research and try to find out what the going rate is in your area. This way you can get a better idea of what to expect. Secondly, when you find a tailor that you like, see if they offer any discount or promotional offers. Many tailors offer discounts or even coupons which can help you save money.
Thirdly, ask around. Word of mouth is an invaluable resource when it comes to finding a tailor, so don't be afraid to ask friends, family, and colleagues who they recommend. You might be surprised by the helpful advice you get. Fourthly, don't be afraid to haggle. Even if the tailor won't budge on their prices, there are many little extras that you can negotiate for that can save you a bit of money.
Finally, check out any local tailoring associations or groups that you may be eligible for. Many of these associations offer discounts for members, and you may be able to take advantage of additional savings. With a bit of luck, you'll find the perfect tailor for your budget. Good luck!