Affordable Honeymoon Ideas to Make Your Trip Special
Unforgettable Honeymoon on a Budget: 10 Ideas that Won't Break the Bank!
Hey there, lovebirds! Are you overwhelmed by the idea of planning a honeymoon that won't put you in debt? Fear not, for I have got you covered! As a seasoned budget traveler, I have compiled a list of the top 10 best honeymoon ideas that won't break the bank. From a relaxing beach getaway to a thrilling road trip, these ideas will inspire you to plan a honeymoon that is both affordable and unforgettable.
A Budget-Friendly Beach Getaway
Well, who doesn't love the idea of enjoying the sun, sand, and water on a beautiful beach? My partner and I certainly did, and we were thrilled to find that there are plenty of affordable beach destinations for honeymooners. From Gulf Shores, Alabama, to Phuket, Thailand, there are countless seaside spots to choose from that won't break the bank.
One of our favorite tips for finding discounts on lodging, activities, and local transportation is to book everything well in advance. This way, you can take advantage of early bird pricing and avoid the higher rates that often come closer to peak travel season. Another great option is to look for package deals that offer accommodation, flights, and activities all in one.
A great resource we found when planning our beach getaway was Love, Laughter & Happily Ever After . They offer a variety of tips and ideas for a budget-friendly beach honeymoon. Happy planning!
All-Inclusive Resorts: The Ultimate Affordable Honeymoon Experience
Yes, you heard it right! All-inclusive resorts can give you the perfect honeymoon experience without breaking the bank. As a budget-conscious couple, we found that an all-inclusive resort provided us with the most value for our money. One major advantage of all-inclusive resorts is that everything is included! From meals to drinks to entertainment, you don't have to worry about hidden fees or unexpected expenses during your honeymoon. Plus, you'll have access to a variety of activities and amenities that are included in the price, such as snorkeling, kayaking, and spa treatments, making it easy to plan a memorable honeymoon without overspending.When choosing an all-inclusive resort, make sure to do your research and look for economical options. Don't be afraid to negotiate and ask for discounts, or to look for special promotions and deals online. Consider traveling during the off-season or choosing a less popular destination to save even more.Overall, an all-inclusive resort can provide you with the ultimate affordable honeymoon experience, complete with relaxation, romance, and all the luxuries you deserve. So go ahead and treat yourselves, without the added expense!
Ahoy, Honeymooners: Let's Set Sail on an Affordable Cruise!
Y'all, I gotta tell you, cruises are such a great way to honeymoon without breaking the bank! Hear me out, friends. First off, with a cruise, you get to visit multiple destinations in one vacation – that's a steal right there! Plus, the onboard accommodations typically include your room, food, and entertainment, so it's an all-in-one deal. Now, I know what you're thinking, "But cruises can be so expensive!" Well, yes and no. It all comes down to choosing the right cruise line and package to fit your budget. Check out less popular cruise lines or routes, and keep an eye out for discounts. Also, consider booking a cruise during an off-season or shoulder season. Trust me, it makes a huge difference in terms of pricing. Another thing to keep in mind is the duration of the cruise. If you're short on time or funds, a 3-4 day cruise can still pack in a lot of adventure without breaking your budget. Lastly, don't forget to factor in any additional expenses, like excursions or drinks, and budget accordingly. But with a little bit of planning and flexibility, an affordable cruise honeymoon is definitely worth considering. Anchors away, lovebirds!
Hit the City with Your Honey!
Looking for a honeymoon that blends culture and romance without breaking the bank? Consider a city escape! While many think of beach resorts or secluded cabins as top honeymoon picks, cities offer a unique opportunity to immerse yourself in a new environment and enjoy a wide range of activities without emptying your wallet. But how can you make the most of your city escape honeymoon? Follow these tips:
First, try visiting a city that you've never been to before. This will spark more excitement and give you and your partner an opportunity to explore together. Plus, hitting up a lesser-known destination can often result in lower prices on lodging, dining, and entertainment.
When choosing lodging, consider options like Airbnb or vacation rentals over hotels. It's often possible to find affordable and charming rental spaces that make for a perfect honeymoon retreat. Plus, making your own meals in a rental can save you big on dining out costs.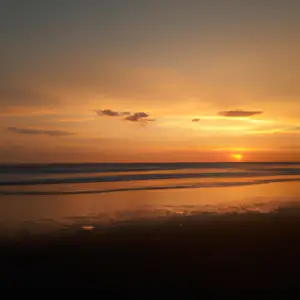 One of the best parts of visiting a city escape is the endless opportunities for affordable entertainment. Check out free museums, parks, and public events for plenty of romantic and budget-friendly outings you'll both love. Don't be afraid to take a stroll through the city and explore – sometimes the best memories come from spontaneous, unstructured time.
Finally, make the most of local cuisine. Eating at trendy and high-end restaurants can put a strain on your budget, so look for local hidden gems or food trucks and carts for a taste of the city's authentic cuisine.
With careful planning, your city escape honeymoon can be a perfect blend of adventure, relaxation, and romance without breaking the bank. Happy travels!
Camping Trip: Embracing the Outdoors on a Budget!
I'm a nature lover, and that's why a camping trip for my honeymoon was my top choice. Not only was it an unforgettable experience, but it was also budget-friendly! Camping allows you to enjoy the beauty of nature and escape from the hustle and bustle of city life. Plus, it's an opportunity to unplug and connect with your partner on a deeper level.
If this is your first camping trip, there are few things you should keep in mind. First and foremost, make sure you have the right gear, including a tent, sleeping bags, and cooking utensils. If you don't own any gear, look into renting or borrowing from friends or family. You can also find budget-friendly options at camping stores or online retailers.
Another way to cut costs is by choosing a state or national park that offers budget-friendly camping options. National parks offer amenities like clean restrooms, showers and water, and most importantly, spectacular views! Make sure you research the park in advance and reserve a campsite that fits your budget.
One thing to note is that camping trips can be physically demanding, especially for beginners. Make sure you bring comfortable hiking shoes and clothes that are appropriate for the weather. And don't forget to pack essentials like first aid kit, sunscreen, and insect repellent.
Camping is an excellent way to escape the clutches of urban life and enjoy the beauty of nature without breaking the bank. It's a unique honeymoon experience that you'll remember for years to come. So, grab your partner and head out into the great outdoors!
My Ultimate Guide to Planning a Stellar Road Trip Honeymoon
All right, you lovebirds! When it comes to honeymooning, there's no need to break the bank on an extravagant trip. Here's a cost-effective idea for a unique and unforgettable honeymoon: take a road trip! Packing up and hitting the open road can create everlasting memories with your new spouse whilst being wallet-friendly.
The Importance of Preparation
Before you hit the road, ensure that your vehicle is roadworthy, and schedule a check-up beforehand. Check oil levels, tire pressure, and brake quality to avoid dangerous predicaments. Since it will be lengthy car rides, plan ahead with appropriate and comfortable seating arrangements, car snacks, and drinks that will keep the energy and spirits high. Also, devise a flexible itinerary that allows for detours and unexpected stops – you never know what hidden gems you will discover!
Plan for Entertainment
Music is a must-have to keep the road trip fun and entertaining. That's why it's vital to create a bespoke playlist that fits both of your music preferences – think of this as your "soundtrack" for the trip. Additionally, pack a few games, such as car bingo or the infamous "I Spy" game, to make the trip more interactive. Lastly, plan a list of podcasts or audiobooks to keep your minds engaged and give your vocal chords a break from singing along to 90s pop classics!
Dine Out Strategically
Eating out for every meal can quickly add up! An ingenious strategy is to pre-pack lunches, snacks, and non-perishables (e.g. granola bars) to munch on while driving. Also, research the cities or towns you'll be driving through and find out which ones have inexpensive, but mouth-watering cuisine. Eating local and sampling a diverse range of cuisines can undoubtedly be one of the most exciting and memorable parts of the trip!
Do Your Research
Spontaneity can be fun, but it's also essential to book lodging and attraction tickets in advance to avoid missing out or overpaying. There are multiple resources, like Expedia or Booking.com, to find great deals on accommodations. For the attractions, research online in advance to discover where the deals are! Many amusement parks, museums, and entertainment centers offer discounts online.
Conclusion
A road trip honeymoon is a unique and romantic way to spend time with your love and is more cost-effective than you may think. Just remember to prepare your vehicle, plan for entertainment, dine out strategically, do your research, and most importantly, enjoy the ride!
Staycation: How I Enjoyed My Honeymoon Without Breaking the Bank
When my partner and I got married, we knew we wanted to take a honeymoon but didn't have a lot of money to spare. That's when we decided to have a staycation instead. We discovered that a staycation honeymoon could be just as enjoyable as a traditional trip while still being affordable.
Firstly, we created a "staycation itinerary" of all the things we wanted to do, both together and separately. We visited local museums, tried new restaurants, and even took a day trip to a nearby attraction. We also made sure to schedule in time to relax and enjoy each other's company.
Secondly, we made our home feel like a honeymoon destination by decorating the bedroom with candles and buying special sheets and pillows. We also indulged in spa treatments and massages from local beauty salons, treating ourselves to a little pampering without having to leave town.
We also took advantage of the many free activities our city had to offer, such as hiking in local parks and attending free concerts and events. This not only saved us money but also gave us the chance to explore our city in new ways.
Overall, our staycation honeymoon was an incredible experience, full of relaxation, adventure, and quality time together. It proved that you don't need to spend a lot of money to have a memorable honeymoon, as long as you get creative and stay open-minded.
Exchange Houses: A Cheaper Alternative for Your Honeymoon Stay
Hey folks! So, for our honeymoon, my partner and I wanted to do something unique and low-cost. We stumbled upon house exchanges (also known as home swaps) and it was a game-changer! The idea is simple: you trade your home for someone else's for a certain period. It's like Airbnb, but you don't pay any accommodation fees.
To find a house exchange, you can use websites like HomeExchange, Love Home Swap, or Intervac. These websites typically have a membership fee, but it's still more affordable than paying for a hotel. You'll also need to have a clear communication with the other people to make sure everyone is on board, and to agree on the terms and dates of the exchange.
Before you commit to a house exchange, make sure you ask the homeowners plenty of questions to ensure their home is right for you. You should also make a list of house rules and prepare your home for the exchange, so that your guests will feel welcome and be comfortable during their stay.
Keep in mind, house exchanges have some limitations. You can't always guarantee that the condition of the home and neighborhood will meet your expectations, so it's important to do some research before agreeing to the exchange. However, if you are willing to take the risk, house exchanges can be a fantastic way to travel on a tight budget and experience different cultures without breaking the bank.
Have you ever tried a house exchange for a honeymoon or vacation? Let us know in the comments below!
Jet-setting on a Budget: My Guide to Affordable International Travel
When it comes to honeymoon planning, international travel is an enticing option – but it can also be intimidating for those on a budget. As someone who loves to travel and has made my fair share of international trips, I've put together my top tips for making it work without breaking the bank.
Be Flexible with Dates and Destinations
One of the biggest expenses when it comes to international travel is airfare. To get the best deals, be willing to adjust your travel dates and destination. Consider traveling during the shoulder season, which is the time between the high and low seasons. Not only will it be less crowded, but you'll be able to save money on flights and accommodations. Keep an open mind about where you're going – sometimes lesser-known destinations can be more affordable and just as enjoyable.
Comparison Shop for Flights
When it comes to booking flights, make sure to compare prices across multiple websites and airlines. Don't be afraid to book separately for departure and return flights if it means scoring a better deal. Also, consider alternative airports – flying into a nearby airport and taking public transportation can save you money.
Consider Budget Accommodations
Instead of staying in high-end hotels, consider budget accommodations like Airbnb, hostels, or even camping. You may sacrifice some luxury, but these options can be significantly cheaper and even provide a more authentic experience. Make sure to read reviews and choose a reputable host or company.
Eat Like a Local
One of the best ways to experience a foreign culture is through its food. Skip expensive restaurants in touristy areas and opt for local, budget-friendly eateries. Street food can often be the most delicious and affordable option. If your accommodations have a kitchen, consider preparing some of your own meals with local ingredients from a market.
Make the Most of Free Activities
Many cities and destinations have free or low-cost activities to enjoy. Do your research before you go and plan to take advantage of these options. Museums, parks, and historical sites are often low-cost or free to visit. Walking tours or self-guided tours are another great way to explore a new city without paying for an expensive tour guide.
Use Local Transportation
Taxis and rental cars can quickly eat into your travel budget. Instead, use local transportation options like buses, trains, or subways. Not only is it cheaper, but it can also be a fun way to experience the local culture. Some cities even have bike-share programs, which can be a great option for exploring on a budget.
With some planning and flexibility, international travel can be affordable and unforgettable. After all, isn't that what a honeymoon should be?