Choosing a Videographer for Your Wedding
Lights, Camera, Action: Why You Need to Hire a Videographer for Your Wedding
Hey there! As a bride-to-be, I know firsthand how overwhelming wedding planning can be. There are so many vendors to choose from and so much to consider. One vendor that often gets overlooked is the videographer. Let me tell you, hiring a professional videographer for your wedding is crucial. Trust me, you'll want to capture every moment of your special day to relive for years to come.
First things first, let's define what exactly a videographer is. Essentially, a videographer is someone who specializes in filming and producing videos. In the case of a wedding, a videographer will capture the ceremony and reception on film, then edit and produce a final video that tells the story of your big day.
Not convinced you need to hire a professional? Let me break it down for you. While it may be tempting to have a friend or family member film your wedding to save money, I highly recommend against it. A professional videographer has the experience, equipment, and skills necessary to capture all the important moments and create a beautiful, polished final product. Trust me, you don't want to end up with shaky, poorly-lit footage that you'll never want to watch again.
So, you've decided to hire a videographer for your wedding – congratulations! Now comes the task of choosing the right one for you. Here are some things to consider before making your decision:
What to Consider When Choosing a Videographer
First of all, it's important to consider the videographer's personal style. Is it in line with what you envision for your wedding video? Do they specialize in a certain type of videography, such as documentary or cinematic? Make sure their style and expertise match what you're looking for.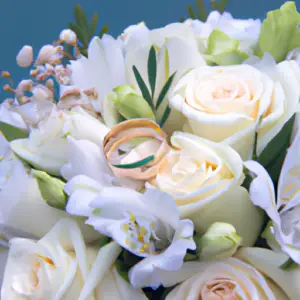 Next, take a look at the equipment the videographer uses. Do they have high-quality cameras, lighting, and audio equipment? These factors are crucial in capturing clear, beautiful footage of your special day.
Of course, you'll want to see examples of the videographer's work to ensure their quality meets your standards. Browse their portfolio and watch sample videos to get a feel for their skills.
Then, there's the matter of cost. While you may be tempted to choose the cheapest option, keep in mind that this is a once-in-a-lifetime event that you want to remember fondly for years to come. A higher-priced videographer may offer more experience, higher-quality equipment, and superior editing services.
Overall, choosing a videographer is a personal decision. Take the time to do your research, ask questions, and find someone who makes you feel comfortable and confident in their abilities to capture your special day in a beautiful and memorable way.
What Should I Ask a Videographer for My Wedding?
When it comes to choosing a videographer for your wedding, it's important to ask the right questions to ensure that you're getting exactly what you want for your special day. Here are some questions you should ask a videographer before hiring them:
1. How Many Weddings Have You Shot?
It's important to know how much experience a videographer has before hiring them. You want to make sure that they have experience shooting weddings specifically, and that they have a good track record with their clients.
2. What Is the Turnaround Time for Your Videos?
You don't want to wait months to receive your wedding video, so it's important to ask about the turnaround time. Make sure that the videographer has a timeline in place and can give you an estimate of when you can expect to receive your video.
3. What Is the Cost and What Is Included?
It's important to find out the details about pricing and what is included in the package you're interested in. Make sure you understand what you're paying for and if there are any additional fees that may come up later.
4. What Type of Editing Do You Offer?
Editing is a big part of creating a wedding video, so it's important to ask about the type of editing the videographer offers. Do they offer different styles and effects? Can you give input on how the final video looks?
5. What Kind of Payment Plans Do You Offer?
Payment plans can make the cost of a wedding videographer more manageable. Find out if the videographer offers any payment plans that may work for you and if there are any fees associated with them.
By asking these questions, you'll be able to find the right videographer for your wedding and ensure that the end result is everything you hoped for.
Tips for Choosing the Right Videographer
Hey, I'm here to share with you some tips that helped me choose the right videographer for my wedding. Whether you're on a tight budget or you're looking for a premium videographer, these tips can help you make an informed decision.
Get Recommendations from Friends and Family
One of the best ways to find a qualified videographer is to ask your friends and family who recently had their weddings filmed. They can share their experiences and give you recommendations that wouldn't be readily available otherwise. Plus, if they had a great experience, chances are you will too.
Read Reviews and Check Out Their Portfolio
Another way to vet a potential videographer is to search their online reviews. This can give you a good idea of how well they work with clients, their professionalism, and the caliber of their final product. Additionally, it's important to view their portfolio to ensure that their style aligns with your vision.
Find Someone Who Is Willing to Listen to Your Ideas
Choose a videographer that is open to hearing your ideas and collaborating with you. You want to work with someone that takes into account your vision and has the skills to execute it. The videos of your wedding day should be personalized and unique to you and your partner.
Make Sure You Have a Contract
Once you've found a videographer you want to work with, ensure you have a written contract detailing the specifics of your agreement, including payment terms, the delivery of the final edited video, and any other essential details. This not only establishes credibility and professionalism, but also ensures that both parties stay accountable.
Conclusion
Choosing the ideal wedding videographer can seem overwhelming, but with some research and consideration, you can find the right professional to capture your special day. Remember to get referrals, read reviews, be clear about your expectations, and sign a written contract. Following these tips can make a world of difference in the quality of the memories you'll have captured on film.
Bottom Line: Don't Skimp on Wedding Videography
Alright, folks, let me break it down for you. When it comes to your wedding, you want someone who knows what they're doing, especially when it comes to capturing those memories on video. It's worth investing in a professional videographer because you don't want to look back on your wedding day footage and have regrets.
When it comes to choosing a videographer, keep these four things in mind: style, equipment, quality, and cost. You want someone who aligns with your vision, has quality gear, produces great work, and doesn't break the bank. And don't forget to ask questions like their experience, turnaround time, editing options, pricing, and payment plans. Look for someone who listens to your ideas, has great reviews, and is willing to put together a contract.
At the end of the day, wedding videography is something you won't regret splurging on. Trust a pro to capture the essence of your day so you can re-watch, reminisce, and relive your wedding day for years to come.
FAQs on Wedding Videography
What do you want in a wedding videographer?
Well, when it comes to choosing a wedding videographer, I'm looking for someone who can capture every important moment of the day from start to finish. I want someone who has a great eye for framing shots and can use creative camera angles to add depth and interest to the final footage. It's also important that the videographer has experience working with weddings specifically, so they know how to navigate the ceremony and reception without being disruptive. Plus, it helps if they have a calm and friendly personality to put me and my fiancé at ease on what is sure to be a busy and emotional day.
Another thing I'm considering is the videographer's style. Do they have a cinematic look, or is their work more documentary-style? Perhaps they have a blend of both that would be perfect for me. I want to make sure their style aligns with my own vision and aesthetic for the wedding video. It can be helpful to watch several examples of their past work to make sure their style is consistent and high quality.
Overall, when it comes to choosing the right videographer for my wedding, I'm prioritizing experience, creativity, and a style that fits my preferences. This is a once-in-a-lifetime event, and I want to make sure that the video will capture all the special moments that will be cherished forever. By taking the time to research and find the perfect videographer, I'm confident that my wedding video will be something I can treasure for years to come.
What is the best frame rate for wedding videography?
Well, as an AI language model, I don't have personal opinions, but I can tell you some expert advice on choosing the best frame rate for your wedding videography. According to professional videographers, the standard frame rate is 24 frames per second (fps), which gives a cinematic feel to your wedding video. However, if you want a more traditional look, you can go for 30fps. Moreover, if you want a higher quality video, you can opt for 60fps or 120fps, which captures more frames per second, but usually takes more space on your memory card. It's essential to discuss your preferences with your videographer and let them guide you on choosing the perfect frame rate that suits your wedding video needs. Remember that the frame rate plays a significant role in setting the mood and tone of your wedding video, so choose wisely.
What makes a good wedding video?
Well, let me tell you, choosing a videographer for your wedding is not an easy task. However, in my humble opinion, there are a few things you should keep in mind to ensure you get the best wedding video possible. First, check out the videographer's portfolio to see if their style matches your vision for your big day. Second, make sure they have experience shooting weddings, as this is quite different from other types of videography. Lastly, don't be afraid to ask for references and to contact previous clients to see if they were satisfied with the outcome of their video.
Now, when it comes to what makes a good wedding video, there are a few important elements. Firstly, make sure the video captures the emotions of the day. A skilled videographer will be able to show the tears, laughter, and joy that make weddings so special. Secondly, the video should be well-edited. This means that the footage is not only shot well, but also put together in a cohesive and meaningful way. Finally, a good wedding video should tell a story. It should take the viewer on a journey through the day, from beginning to end, highlighting the most important moments and details along the way.
Another important factor to consider when choosing a videographer is their equipment. While having top-of-the-line gear does not guarantee a great video, it certainly helps. Look for a videographer who has professional-grade cameras, lenses, and microphones, as well as backup equipment in case something malfunctions. Additionally, you may want to inquire about drone footage, as this can add a unique and stunning perspective to your wedding video.
In summary, when choosing a videographer for your wedding, make sure their portfolio, experience, and references align with your needs and desires. Look for a videographer who can capture the emotions, edit the footage well, and tell a story. Lastly, consider the equipment they use and whether or not it will meet your expectations. By following these tips, you'll be well on your way to getting a wedding video you can cherish for years to come.
what to look for when choosing a videographer for your wedding
When I was searching for a videographer for my wedding, I knew I needed someone who could capture the passion and tenderness of the big day. There were several factors I considered before making my decision. Firstly, I looked at the type of equipment the videographer used – I wanted someone who had high-quality cameras and audio equipment so that the video would be crisp with clear sound. Secondly, I looked at the videographer's portfolio to assess their style – I wanted a videographer who had a creative eye and produced beautiful, cinematic videos. Additionally, I spoke with the videographer to find out if they were easy to communicate with and if they had a passion for their work. Lastly, I considered the videographer's price and availability to ensure that they fit within my budget and schedule. All of these factors helped me make an informed decision and I was thrilled with the end result of my wedding video.