Capturing the Perfect Wedding The Best Cameras
wedding photography cameras: the key qualities to look for
Hey there, I'm excited to share my knowledge on selecting the right camera for your wedding photography needs. As a seasoned photographer, I understand the importance of having a reliable camera that can produce breathtaking images.
When it comes to photographing weddings, we need to capture intimate moments, raw emotions, and stunning portraits. That's why a camera that can handle low light and have excellent autofocus is a must. When selecting a camera, the following qualities must be considered:
Low light capabilities
High resolution
Autofocus capabilities
Lens options
Stabilization
In the following sections, I'll provide expert advice on the top five cameras that are perfect for capturing your special day. But before we do that, let's define wedding photography and dive deeper into the critical traits to look for when selecting a camera.
Top Five Cameras to Capture Your Wedding
Gather 'round, lovebirds! If you're planning to tie the knot soon, you know that one of the most important elements of your special day is capturing each moment to last a lifetime. Choosing the right camera can make all the difference. No need to panic, because I've got you covered. Here are my top five picks for the best cameras to capture your wedding.
First up, we have the Canon EOS 5D Mark IV. This camera is a favorite among many professional wedding photographers for its stunning image quality and versatile shooting options. The autofocus system is fast and accurate, perfect for capturing those spontaneous moments without missing a beat.
Next on the list is the Nikon D850. It's a powerhouse of a camera with a 45.7 megapixel sensor and 153-point autofocus system, making it a fantastic choice for wedding photography. Plus, the tilting touchscreen LCD is a godsend for those hard-to-get shots.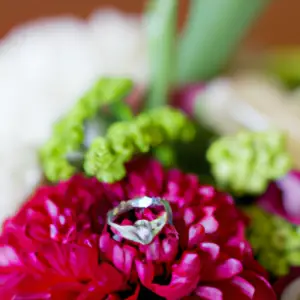 The Sony Alpha a7R III is another excellent option for wedding photography, boasting a 42.4 megapixel sensor and advanced autofocus system. It's also mirrorless, meaning it's lightweight and easy to maneuver, perfect for getting those candid shots.
If you're a fan of Fujifilm's retro aesthetic, the X-T3 may be the camera for you. Don't let its stylish exterior fool you, though – this camera packs a punch with its fast autofocus system, 26.1 megapixel sensor, and 4K video capabilities.
Last but not least, we have the Panasonic Lumix GH5. This mirrorless camera is an excellent choice for couples on a budget without sacrificing quality. It's got impressive autofocus capabilities, stunning image stabilization, and the ability to shoot in 4K.
Keep in mind that it's not just the camera body that's important – the lenses you choose can make a huge difference in the final result. Make sure you invest in high-quality lenses with the right focal lengths for the shots you want to capture.
Overall, choosing the right camera is essential to capturing your wedding day memories. Whether you opt for one of my top five picks or another camera entirely, just make sure you're comfortable using it and that it meets your needs. Happy shooting!
Top Five Cameras for Capturing Your Wedding
Now, let's talk about some additional considerations when selecting the perfect camera for your wedding day. One important feature to consider is autofocus capabilities. You want a camera that can quickly and accurately focus on moving subjects, such as you and your partner dancing or walking down the aisle.
Another crucial consideration is the type of lens you choose. Different lenses perform better in certain lighting conditions and for photographing specific types of shots, such as wide-angle or close-up portraits. It's also worth investing in image stabilization to ensure your photos turn out crisp and clear, even in low lighting situations.
As an experienced wedding photographer, I highly recommend checking out Love Laughter Happily Ever After's article on choosing a videographer for your wedding. Many of the factors they discuss also apply to selecting a photographer, such as style, personality, and communication.
By taking these additional considerations into account, you'll be sure to select a camera that will help you preserve your special day's memories for years to come.
My Final Thoughts on Choosing the Perfect Camera for Your Wedding
Well folks, there you have it – my expert advice on selecting the top cameras for capturing your big day. Remember, the camera you choose can make or break the quality of your special memories, so take your time and choose wisely!
Ultimately, there is no "one size fits all" solution for choosing a camera. It all comes down to what you value most – image quality, autofocus capabilities, or perhaps a specific brand preference.
When it comes to autofocus, the Canon EOS 5D Mark IV takes the cake, while the Nikon D850 offers superior image quality. For those who prioritize video, the Panasonic Lumix GH5 is a great option as it offers 4K video capabilities.
Additionally, don't forget to consider your lenses and image stabilization when selecting your camera. These factors can greatly impact the clarity and quality of your shots.
Ultimately, no matter which camera you choose, remember to relax, enjoy your day, and trust your photographer. The perfect camera can only do so much – it's the memories and moments captured that truly matter in the end.