Planning an Unforgettable Wedding Rehearsal Dinner
Introduction
A rehearsal dinner is a pre-wedding event, typically held the night before the wedding. It's a time for family and bridal party members to get together, break the ice, and relax before the big day. Planning an unforgettable rehearsal dinner takes a bit of creativity and effort, but it will make all the difference! So if you're looking to put together an event that people won't forget anytime soon, then keep reading.
Creative Venue Ideas
When it comes to your rehearsal dinner, ain't no party like a creative venue party! No two couples are the same, so why settle for the same old same? Spice it up by picking a location that your guests won't soon forget.
Head out to a classic restaurant to enjoy meal among good company. Or find a park for a beautiful outdoor setting. Breweries are popping up all over these days, and nothing beats their unique atmosphere. Prefer something more elegant? Look for a museum or gallery for a refined touch.
Don't be afraid to think outside the box, y'all—who knows what unexpected gems you'll find! Whether you're inside or out, in the city or out of town, there's sure to be a place that suits your shindig perfectly.
Theme Ideas for an Unforgettable Rehearsal Dinner
When planning your rehearsal dinner, consider creative themes to set the scene and add some pizzazz. There are plenty of ways to customize a one-of-a-kind experience that will be remembered. Here are some ideas to get you started:
Vintage. Going vintage for your rehearsal dinner is a great way to bring back a classic style or evoke a particular era. Whether you want to highlight a '50s-style diner complete with jukebox or celebrate a bygone era with a vintage theme, there are plenty of options to make it unique and special.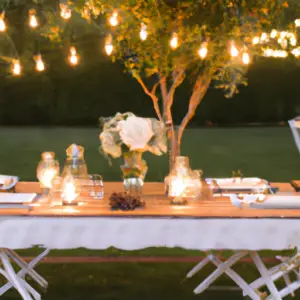 Rustic. This is a popular option lately, utilizing natural elements such as wood, stone, and metal for the decorations. You could even incorporate the rustic feel into your menu. Add a hearty collection of vegetarian dishes made of fresh ingredients.
Beach. If getting married at the beach is on the agenda, why not carry the fun and relaxation of oceanfront living over to the rehearsal dinner? Hang up strings of tiny white lights to mimic starlight, decorate with driftwood, and serve light seafood dishes.
Classic. Keep it simple and elegant with a classic theme. Think candles, white tablecloths, and silverware. Keep the menu items basic but delicious favorites like steak, mashed potatoes, and veggies. Lastly, don't forget to add a few bottles of champagne for a blissful toast!
Menu Ideas
When it comes to planning a rehearsal dinner, there's nothing quite as important as what's on the menu. After all, everyone wants to make sure guests leave feeling full and satisfied! The last thing you want at this special event is for people to leave the party early due to hunger.
For appetizers, why not kick things off with an avocado bites recipe? Cut avocados into cubes and top them with a mixture of cream cheese and minced onions. Throw in some bacon bits for extra flavor and put them in the oven until they look golden brown. This is sure to give your guests a tasty and unique start to the evening.
For entrees, try something classic like chicken marsala. It's always a crowd-pleaser and is relatively easy to make. Marinate chicken breasts in a Marsala wine sauce, then bake in the oven. Serve with a side of freshly steamed vegetables or roasted potatoes and you've got a delicious main course.
For sides, veggie kabobs are always a hit. Alternating chunks of mushrooms, onions, tomatoes, and bell peppers create an appetizing and colorful display. Grill until veggies are tender, then sprinkle with salt and pepper. Delicious!
Finally, end the meal on a sweet note with warm apple pie. Nothing says comfort food more than a slice of homemade apple pie topped with melted butter and ice cream. Yum!
Entertainment Ideas for Your Rehearsal Dinner
Hey there! You're throwing a rehearsal dinner and you want it to be unforgettable? Great, you've come to the right place! Here's some top notch advice on how to add the wow-factor to your special night.
Let's start off with music – no party is complete without a soundtrack. Spinning some classic tunes ensures everyone is singing and dancing (and maybe even crying!) along. Think Frank Sinatra or something more modern like The Beatles. Or maybe you'd rather an acoustic band strumming away in the background? Either way, you'll be sure to create a great atmosphere for your mates.
You could also introduce some real fun with a few games. It can be anything from charades or trivia, to a drinking game. It doesn't have to be super complicated, but it will certainly provide hours of entertainment and laughter.
Adding a photo booth to your evening festivities will give the all important keepsake photos; this could also be a great conversation starter and a chance to get all the guest's mingling. Consider setting up a feature wall as a backdrop too – this adds a really personal touch, plus lots of hilarious and memorable props.
Finally, decorations are key to any big shindig. Think of them as the cherry on the cake and have fun with what you choose. From gorgeous flowers to glittery confetti, you'll find the perfect ensemble to suit your theme.
Now you have all the essential info to make your event one-of-a-kind. So go wild, be creative and your guests will thank you for a night they won't soon forget!
Conclusion
Well, I think it's safe to say that you and your guests are sure to have an unforgettable rehearsal dinner! With this collection of creative venue ideas, theme, menu, and entertainment options, you should be well on your way to hosting a great event. Whether you opt for a classic, vintage, beach or rustic style, there is something to suit any couple's taste. From amazing appetizers to stunning desserts, and fun activities to get everyone involved, you'll be certain to create the perfect evening for everyone to enjoy.
So go ahead – get those invitations out, pick the venue of your dreams, come up with a unique theme, and create the menu of your choice; all these details will culminate in an amazing and unforgettable rehearsal dinner.
Q&A on Wedding Rehearsal Dinner
What is a good idea for a rehearsal dinner?
I'll tell you what, when it comes to putting together an unforgettable wedding rehearsal dinner, my advice is to get creative and make it fun – that way, everyone will remember it! One great idea is to host a potluck-style dinner and have each person bring a different dish, or even better, ask each of your guests to make something that reminds them of a funny or memorable moment in the couple's relationship. This will be a great time for everyone to come together and reminisce, and seeing how much the couple has grown together over the years will make the dinner even more meaningful. Additionally, you could also organize a game night, or host a karaoke night – both of these will get everyone in the mood for a fun night and bring a lot of laughs. Whatever you decide to do, make sure it reflects the couple's personalities and interests and it will be an unforgettable night they will always remember.
What makes a rehearsal dinner special?
Choosing the right setting, food and entertainment can make a wedding rehearsal dinner an unforgettable event. For starters, you want to pick a venue that fits the occasion—somewhere with plenty of room to move around, good music and a great atmosphere. This helps set the tone for the evening.
You could also give your guests something they'll appreciate: a personalised wedding rehearsal dinner gift. Something like a customised gift basket of the bride and groom's favourite snacks, drinks and wines. A special presentation like this can be a great way to show your appreciation for everyone's help and support.
When it comes to food, you'll want to serve something special; finger food and small dishes that guests can pick at as they mingle and make toasts. A good menu should include a mix of traditional favourites, like meatballs and veggies, and more unusual dishes, like sushi and vegan options.
Finally, for entertainment, consider hiring a live band or DJ to provide background music, then set up a few bar games like the ever-popular cornhole. This gives your guests a great opportunity to break the ice and get to know each other better before the big day.
No matter what approach you choose, it's important to remember that your wedding rehearsal dinner should be a reflection of your style as a couple. After all, it's the first big celebration of your union, so it should be memorable and special!
What is the best game for the rehearsal dinner?
For an unforgettable wedding rehearsal dinner, I'd suggest something with a bit of an edge to it. A great way to break the ice and get everyone in the spirit of the event is to host a game night. Think charades, 20 questions, and on-the-spot challenges, which can be easily tailored to any wedding party. Make sure to have plenty of prizes on-hand to reward the winners! To keep it interesting, you can also rotate players throughout the game so everyone has a chance to participate. This will ensure the evening is filled with competition, laughter, and of course, fun!