Choosing the Perfect Fragrance for You
Ever wanted to smell like a million bucks? Well, hold up! Before you make a purchase, it's important to know exactly what you want in your fragrance. Choosing the right scent for you is a whole science – there's more to it than meets the nose!
So, let's get into it: what exactly is a 'fragrance' anyway? Put simply, fragrances are mixtures of essential oils and other aroma compounds that create an enduring, pleasant scent. Fragrances come in many different forms and each offer a unique taste and experience.
Consider Your Taste
When it comes to choosing the right fragrance, it's all about you. Sure, people around you may have their preferences, but picking out a scent that you like is the most important thing. Start by analyzing your personal preferences. Do you gravitate towards bold and spicy aromas, or do you prefer something light and fresh? After you've identified what you're into, try out some different scents. You can find sample sizes of perfumes online or in stores – that way, you won't commit to buying a full size until you're sure you love it. Plus, your taste will likely evolve over time, so you might end up liking something completely different from what you expected! Lastly, consider the occasion when picking out a fragrance. If you're heading to an after-work happy hour, a light and airy scent may be more appropriate than something heavier and more intense.
Take Note of the Occasion
When it comes to deciding on a fragrance, it's important to think about the event or situation you'll be wearing it for. For example, if it's the office, you might want something more casual, like a citrusy scent. If it's a night out with friends, you may consider something a bit more bold, such as a woody fragrance. And if it's a formal gathering, you can't go wrong with a classic floral.
At daytime events, lighter fragrances are usually best, while heavier scents work best in the evening. Believe it or not, certain fragrances have associations with certain types of events—so picking the right one is key!
Choose a Fragrance Type
When it comes to choosing your perfect scent, it pays to know the different fragrance types out there. From citrusy to floral and more, here's what you need to consider.
First up is citrus. Crisp, light and refreshing, citrus is great for daytime wear. Fresh, tart and often zesty, citrus fragrances are easy to wear and can easily be matched with a variety of outfits. Lemons, oranges and limes are common notes in this type of perfume.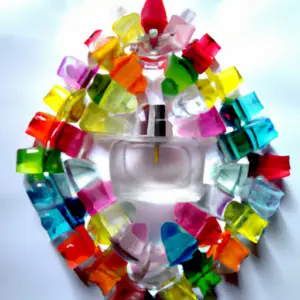 If you're looking for something warmer and woodier, then you'll want to go for a woody fragrance. Think cedarwood, sandalwood, patchouli or vetiver. Woody scents are great for those looking for something more masculine or serious. They pair well with sophisticated or formal wear.
For something a little bit sweeter, try a floral. Classic rose, gardenia, jasmine and lavender are all classic notes in this type of fragrance. Florals bring a romantic, feminine touch to any outfit. Perfect for date-night, they can be worn during the day too if done in moderation.
Oriental scents are usually a combination of warm base notes like tonka bean, musk and vanilla, as well as top notes like citrus, spices and herbs. Oriental fragrances are typically the most intense and powerful type, so they should be handled carefully! Ideal for nighttime wear, these scents can make you feel exotic and mysterious.
Choose the Right Fragrance Intensity Level
The sweet smell of success is sure to be yours if you take the time to choose a fragrance intensity level that perfectly suits your needs. You don't want to smell too overpowering or too light; hit the right note with just the right amount of intensity.
One way to go about this is by picking your concentration type first. Sheer fragrances are usually recommended for daytime use, and hold up better in hot weather than heavier concentrations. For special events or nighttime wear, opt for light, moderate, heavy—or Eau De Parfum and Eau De Toilette.
Don't commit to a full-size bottle until you're sure you've found The One. Try out a few different scents and intensities when you can. Many stores offer sample sizes that let you try before you buy, so you'll know what you're getting into.
Take your time with it; one whiff in the store doesn't mean it's going to be perfect on you. After all, we all have such different bodies and skin Chemistry, so take note of how the scent lingers after a few hours. That's gonna be the key.
Bottom line? Don't be afraid to mix it up and experiment! A good fragrance should evoke powerful emotions and memories. Make sure you pick something you love and that works for you, based on your fashion sense and lifestyle.
Buy the Right Amount
You've got your heart set on a new scent – now you just need to know how much of it to buy.
The last thing you want is to spend too much money and end up with a perfume that lasts for months, when all you needed was enough for a couple weeks. Or on the other hand, invest in a tiny bottle only to find out it's gone before you can even get used to it.
So, no matter what fragrance you decide on, it pays to get the right amount of it. Here's some advice: Start small. You can always get more later.
Look for samples first or buy mini bottles when they're available. If you've got your eye on something special, you might consider buying a standard size bottle once you're sure you love it.
When it comes to concentration type, don't forget parfums or eaux de toilette, because they last longer than colognes. So if you plan to spritz on something for a night out, opt for these two.
In the end, it's all about weighing pros and cons. Do you want a lot of fragrance for a low price? Go for a cologne. And if you want something that will last longer, but costs more, go for one of the others.
Conclusion
Now that you know the basics of finding the right fragrance for yourself or someone special, it's time to get out there and start exploring! With a few key tips in mind, you'll be able to find an amazing scent that perfectly suits your taste. Don't forget to keep occasion in mind when making your selection, whether casual or formal, daytime or nighttime. Choose the fragrance type – citrus, woody, floral, or oriental – that best fits your taste. Determine the intensity level – sheer, light, moderate, or heavy – that will be appropriate for the situation.
And lastly, make sure to buy the right amount of your favorite scent. Whether you'd prefer to try out a sample size or commit to a larger concentration, you can make sure to get just enough of your new signature fragrance. It might take some experimentation, but make sure you don't give up. You're sure to find the perfect scent for you!
Fragrance FAQs
How do I choose a signature scent for myself?
Choosing a signature scent for oneself can be daunting, but there are some easy-to-follow guidelines to make it a bit less overwhelming. First and foremost, you want to think about what kind of smells evoke certain emotions for you. Whether it be a floral scent, something woody, or a citrusy zest, it's important to select something that makes you feel powerful and comfortable.
Additionally, it's extra helpful to know what kind of notes you prefer in fragrances. Do you like musky base notes, or prefer something light and sweet? A good tip is to start off small by trying out sample sizes of different scents first, then invest in full-sized bottles when you know what works for you.
Finally, don't go by what's popular. Your scent is personal and it's all about what you love, so don't be afraid to choose something a bit out of the ordinary. When you do find the right scent that speaks to you, no doubt you'll be glad you took your time and went the extra mile.
How do I choose the right parfum?
Well, when it comes to choosing the right parfum, there's no one-size-fits-all approach. That said, there are a few tips and tricks worth keeping in mind. To start, figure out what type of scent you want–something woody or floral, for instance. From there, give your nose a chance to do the sniffing. Put a few different scents to the test, and if you find a few you like, go ahead and pick the one that really speaks to you. Don't forget to look for the base notes, too–fragrances often start out differently than the way they finish, and understanding the base notes can help you decide if it's a good match or not.
When it comes to trying on a fragrance, apply it to your skin. This will give you a better understanding of its staying power–which often isn't evident from just spraying it in the air. And don't worry if you don't feel an immediate reaction–sometimes it takes a few minutes for the fragrance to settle against your skin and reveal its true scent. Also, consider the season–certain scents will be more appropriate for the weather in your area.
Finally, if you're having trouble deciding, why not enlist a friend to help? We all have different scents that work for us, and chances are, there's someone in your life who can give you some much-needed advice. So go ahead, don your favourite outfit and do some parfum testing–you never know what you'll find!