Wearing Bold Prints Tips for Making a Fashion Statement
Introduction
Throw caution to the wind and add some serious sizzle to your style with bold prints! From stripes to florals, when it comes to making a statement, a brightly-printed garment or accessory is always a safe bet. Keep reading to learn all about the benefits of wearing bold prints and to get some tips for working them into your look.
As soon as I heard about bold prints, I was sold. Not only are they totally on-trend, but they also have the power to transform any outfit from dud to fab in no time. Plus, you don't have to be a fashion expert to pull off bold prints – all it takes is a little bit of attitude and some confidence.
When worn correctly, bold prints can really amp up your style game. Whether you go for subtle stripes or tropical florals, rocking a bold print is sure to turn heads and make you stand out in any crowd. Plus, it's a great way to show off your personality and express yourself without having to say a word.
Tips for Wearing Bold Prints
Love 'em or hate 'em, bold prints are everywhere. Whether it's a mini dress, an eye-catching pair of kicks, or a wild wallpaper pattern, these high impact pieces can easily draw eyes your way. But if you're not careful, they can quickly go from statement to spectacle. If you're ready to get in the game but need some guidance, I've gotcha covered! Here are my top tips for wearing bold prints like a pro.
When it comes to wearing bold prints, starting small is key. Instead of jumping head first into an all-over print, ease yourself in with subtle pieces that feature smaller pops of color and designs. Whether it's a graphic tee, or a pair of low-key printed sneakers, these pieces will help you get comfortable with bold prints without feeling overwhelmed.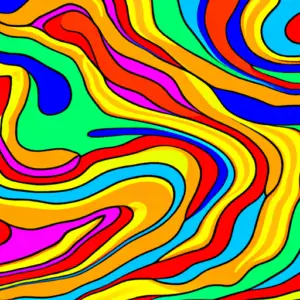 Mixing and matching different patterns can be a great way to make a stylish statement without going overboard. You can use solid colors to break up the look, or switch between a few different patterned pieces to create a cohesive yet eye-catching outfit. And don't forget to finish the look off with accessories that keep the colors balanced.
Finally, when pulling together a look with bold prints, don't forget to play up the neutrals. From classic khaki pants and denim jackets, to crisp white shirts, having a few darker basics on hand to complete your look will be clutch. Not only do they offer a contrast to the more daring elements of your ensemble, they can also help tone the look down if you're feeling too flashy.
Outfit Ideas
Ready to take your bold style game up a notch? We got you. Let's start with an easy, everyday look: grab a graphic tee an pair it with a denim skirt. This combo is comfy, classic, and totally cute – plus, you can take it up or down as needed.
Going out on the town? Floral blouse + wide-leg pants = winning combination! The feminine print adds pizzazz while the pants keep it casual – plus, the outfit could easily be dressed up with heels or jewelry.
Striped dress for a special occasion? Yes, please! Take this sweet look to the next level with metallic accessories like earrings, a belt, or even a clutch. You'll be sure to turn heads wherever you go.
Concluding Thoughts on Wearing Bold Prints
Aaalright, so how to make bold prints work for you. It's all 'bout having confidence and finding the right pieces that speak to your sense of style – no matter what anyone else might think! Here's the gist: Start with smaller pieces, break up patterns with solid colors, mix and match different prints, and finally balance it out with neutral colors or accessories.
Trust me, when it comes to making a bold statement, you don't have to hit 'em over the head with it. A simple graphic tee paired with a denim skirt is just enough to give you that eye-catching look without going overboard. Or maybe a floral blouse with some wide-leg pants… You'll be rocking a fashionable outfit with minimal effort! Just make sure bright colors are balanced with something understated, like a striped dress plus some metallic accessories.
So there you have it! Now you can be stylish and show off your unique flair without worrying about committing fashion faux pas. Don't be afraid to rock those bold prints and let your personality shine through!
Fashionable Prints FAQ
Do prints make you look slimmer?
Sure thing, bold prints can be a great way to look slimmer, if you wear them in the right way. First off, the key to making bold prints look flattering is to pick flattering cuts that fit your body type. Opt for pieces that skim past your figure, rather than clinging to it. If you're petite, it's best to avoid large prints as they can make you look like you're drowning in fabric. On the other hand, if you're a few sizes larger, you can really have fun with bolder prints and patterns as they can help you define your body shape.
Next, consider the color palette. To make sure your bold print looks slimming, match it with dark monochrome colors like navy and black. This will create a slimming, elongated look and stop your outfit from looking too busy. Furthermore, add simple and minimal jewelry – think classic studs and delicate pendants – to avoid looking too overdone. Lastly, think of the occasion and adjust your outfit accordingly. For example, if you're going to a wedding, a bold print jumpsuit or dress can really make a statement, while going to the office might be better suited to a midi skirt with a simple print.
Ultimately, when it comes to wearing bold prints and patterns, having the right fit and choosing the right colors are the key to achieving a slimming look. With the right styling tips, you'll be able to show off your style in bold prints with confidence!
Do big prints make you look bigger or smaller?
It's all about the fit
When it comes to wearing bold prints, it's important to make sure you get the fit right. Big prints can be tricky – they can make you look either bigger or smaller, depending on the cut of the fabric. So it's important to take your time when shopping for bold prints, and really pay attention to the fit of the clothing. If you go for a slimmer fit, it can make you look slimmer and elongate your look, whereas a baggier fit may have the opposite effect. So make sure everything fits you nicely, and it'll make a world of difference. Go for statement pieces
When wearing bold prints, it's best to go for statement pieces that draw all the focus. If you're wearing a really bold pattern, it's best to go for one standout item, like a patterned dress or jacket, and pair it with plainer pieces. This will bring the attention to the bold print itself, rather than overwhelming yourself with too many different patterns. Don't be afraid to experiment
And remember, don't be afraid to experiment! If you find a pattern you like, try different cuts and fits, and play around with the different items in your wardrobe until you find something that works for you. After all, fashion should be fun! So have fun with it and create some bold new looks that you'll love.
How do you wear bold colors?
When it comes to wearing bold colors, a lot of people get intimidated, but it doesn't have to be that way. The key is to take it one step at a time. Start with finding one bold piece, like a patterned dress or a bright top, and then build your look from there. I also like to add in other pieces with subtle pops of color or texture to keep things from looking too overwhelming. And don't forget about accessories! Shoes, bags, and jewelry can all be used to pull an outfit together. You can even try layering different items for a unique look.
No matter what you're wearing, be sure to wear confidence. These bold colors can be fun and stylish, if you own them. Don't be afraid to experiment and find what works for you. After all, fashion is all about having fun and expressing yourself.