5 Steps to Selecting The Perfect Wedding Theme
Introduction
When it comes to planning a wedding, there's nothing quite like a good theme to tie everything together. A wedding theme can be anything from a color scheme, to a romantic setting, to an all-out extravaganza. It's what sets the tone for your big day and gives your friends and family something to remember your special event by. I'm here to tell ya –There's no better way to customize your nuptials than with a themed wedding.
A wedding theme is the underlying concept or design behind a couple's big day. Themes are often broken down into smaller elements such as colors, décor, and overall mood of the day. Couples choose their theme based on personal interests, style, and location. Some all-encompassing themes include a love story, tale as old as time, rustic chic, winter wonderland, garden oasis, summer breeze, bohemian boho, vintage romance, classic elegance, and more.
Benefits of Having a Wedding Theme
So, you've decided to take the plunge and tie the knot. Congratulations! Now—before you start wedding planning, one of the first decisions you need to make is whether you want to have a wedding theme or not. We're here to tell ya: having a carefully planned wedding theme can be a real game-changer for your special day. Here's why.
A wedding theme isn't just an aesthetic decision – it can really help you to plan and organize the whole event. Once you pick a theme that speaks to you, it can set the tone for everything from décor to music to food choices. You'll save time in making big-picture decisions because all of the little details will naturally work together to create a cohesive look and feel.
Plus, having a wedding theme can be a great way to personalize your celebration. Whether it's your favorite color scheme or a venue that reflects your culture, having a well thought-out theme can let your personality shine through. That said, if you don't have a theme, you're still certain to throw a fun & memorable event. With either option, the important thing is that your special day reflects you and your partner.
Steps for Choosing a Wedding Theme
When it comes to wedding planning, choosing your theme is one of the most fun and exciting steps! After all, you're creating a unique world where your special day will live and a meaningful reflection of your relationship. To get started, here are some tips to help you pick the perfect vibe.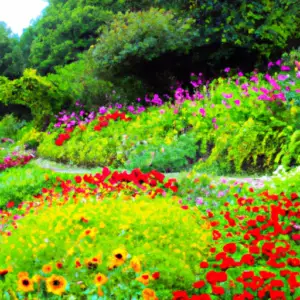 First off, brainstorming ideas can be a great way to find a starting point. Grab a bottle of wine, kick back with your partner, and let those creative juices flow! Don't worry about getting too detailed or specific – just list off all the things that make you both happy, no matter how wacky or out there they might seem.
Next, consider the venue for your big day. Is there something particular about the backdrop that could fit with your theme? For example, if you have your eye on a barn, consider a rustic country wedding with mason jar accents!
Of course, once you have some ideas in mind, it's important to discuss them with your sweetie. Try not to think about what other people might like – this is a special moment for YOU two, after all! Show your S.O. what you're loving and get their thoughts as well.
Then, do some research on current trends. Take a look at various blogs, magazines, and Pinterest boards to get inspired by what others are doing. While there's nothing wrong with staying classic, you might find something totally unexpected that speaks to you and your babe.
Finally, narrowing down your options is key! Scratch anything that doesn't speak to you, no matter how popular it may be, and focus on what you truly LOVE. That way, when it's time to start planning for real, you'll know exactly what direction to head in!
Tips for Narrowing Down Your Options
Gettin' overwhelmed by all the choices out there? Here are some tips to help you narrow down your options.
For starters, try rankin' your ideas. Make a list of pros and cons for each wedding theme idea you've got, then start crossin' off any that just aren't doin' it for ya. If you're still torn between two, it might be time to put in a call to a few trusted friends — get their take on what would best match yer style.
Another great way to narrow it down is to rock the 'ol elimination game. If you know there's no way you're ever gonna go with a certain theme, don't waste your time thinking about it. Buh-bye! It'll make it easier to hone in on the ones you want to explore more deeply.
It's also helpful to set some hard limits before you dive into window-shoppin'. Figure out how much of a budget you can dedicate, and keep an eye out for any themes that don't fit within those parameters. That gets rid of half the struggle right away.
And last but not least: don't be scared to get creative! Just because something isn't totally obvious doesn't mean it won't work. Pull together elements from different themes or go completely off-the-wall; the sky's the limit. This can be one of the most fun parts of the process, so don't be afraid to push yourself.
Popular Wedding Themes
There's no shortage of fun and unique wedding themes out there, so don't feel limited when you're trying to decide. Here are some of the most popular ideas to get you started!
If you crave a classic wedding, you can never go wrong with an enchanted garden. After all, it truly blends the best of both worlds – local flora, romantic ambience and vintage charm. Add string lights and twinkle lights for a magical touch.
Fairy tales aren't just for kids – use them as inspiration for your own special day too! A Cinderella-style ballroom affair complete with glass slippers is sure to make you and your guests feel like royalty. Or choose a Disney theme if you want a more modern twist.
Rustic weddings never seem to go out of style, and they're a great way to put a unique spin on traditional nuptials. Think exposed logs, outdoor spaces, hay bales and lots of natural elements. It's the perfect way to bring the outdoors inside.
Romantic beachside ceremonies are always popular and let you exchange vows while toes are in the sand. Opt for festive tiki torches, ocean blue hues and vibrant flowers for a celebratory atmosphere that'll dazzle all your guests.
Vintage glamour is another big hit amongst couples looking for a timeless look. Put a glitzy spin on your party by incorporating a variety of old Hollywood elements. Art deco details paired with iconic champagne flutes are a chic way to pay homage to the past.
Last but not least, boho chic weddings have become must-have celebrations for many. All types of dreamy floral decor, bohemian accents and burlap touches make this an ideal theme for laid-back couples who still want to wow their guests.
Conclusion: Wrapping it Up
Choosing the right wedding theme should not be taken lightly. It sets the tone and atmosphere for your special day, and can completely transform any event space with the right decorations and details. The process of deciding on a theme may seem daunting at first, but by following some basic steps and tips, you'll find that there are many creative ideas to explore. Don't forget to research popular themes for inspiration, and always keep your preferences in mind. Now that you have this knowledge, you're ready to plan the perfect wedding theme!
FAQs About Wedding Theme Ideas
What is the best theme for a wedding?
Choosing the perfect wedding theme can be a daunting task. After all, it sets the tone for your entire celebration. But, don't worry. With a little creativity, you can make your big day truly special.
When it comes to selecting your theme, it's important to think outside the box. So ask yourself: what makes your love unique? What represents you as a couple? Is there something you both love that sets you apart? Once you find a concept that speaks to you, you can use it to create a truly memorable wedding.
Your wedding theme can also be tailored to your budget. You don't have to break the bank to create a beautiful atmosphere; there are plenty of DIY solutions to explore. Find ways to make it your own with thrifting, upcycling, and reusing decorations. You can also repurpose items from family and friends, or keep a look out for second-hand gems.
Although the trendiest themes of the moment can be tempting, I suggest adding a personal twist. A theme that mirrors your personalities, has sentimental value and is exclusively yours. This will make your day truly timeless and original.
What is the best wedding theme for 2022?
When it comes to choosing a wedding theme for 2022, you have a lot of options. So, here are a few tips from the experts to make sure you have the best day ever.
First, consider what kind of atmosphere you'd like to create. Are you looking for a traditional affair with classic decor, or something a bit more modern with a unique flair? Take some time to think about the type of vibe you're going for and try to find wedding themes that embody that feeling.
Second, think about your budget. You don't want to overspend on the wedding theme, so it's important to determine what you can realistically afford. That said, don't skimp on quality either. You want your big day to look perfect and memorable, so plan accordingly.
Third, take a look at current trends. While you don't want your wedding to look like everyone else's, there are certain trends that are popular right now. See which ones are a good fit for your style, budget, and wedding day vision.
Finally, don't forget to have fun. Your wedding is supposed to be a happy occasion, so let yourself get creative with your theme. The possibilities are endless, so don't be afraid to experiment and explore until you find the perfect one.
Do I need a wedding theme?
Yes, it's important to have a wedding theme. Without one, your big day can be a bit dull, lacking any sort of personality or flow. There's a lot to consider when choosing a theme — like what type of atmosphere you want to create and what elements you want to include — so it's definitely worth giving it some forethought.
Start by thinking about how you envision your wedding day. Do you want it to feel romantic, glamorous, and sophisticated? Or are you looking to add a touch of whimsy to your special day? Once you've got the vibe figured out, you can start to think about the specific elements and decorations that will help you bring your vision to life.
Don't be afraid to get creative and think outside the box. Incorporate touches that are meaningful to you and your partner and make the day a true reflection of the two of you. Choose a color palette, select a dress code, add decorative elements, and plan activities that reflect your personalities and overall desired theme.
But whatever you do, don't let yourself get overwhelmed. Try to focus on a few key elements — such as your color palette — and go from there. A simple, unique theme can be just as enchanting as a grand one, so don't feel pressured to overdo it.