Women's Must-Have Athleisure Outfit Ideas
Introducing Athleisure: Fashionable and Functional Clothing for Any Occasion
Hey guys, it's me, your favorite fashion guru, and today we're diving into the world of athleisure. So first things first, let's define what we mean by athleisure. It's basically clothing that combines athletic and leisurewear, giving you the best of both worlds. Think comfy, versa- tile, and stylish – all at the same time!
You might be thinking, "really..? Is it possible to look chic and put together while wearing gym clothes?" And the answer is, absolutely! The beauty of athleisure is that it's so flexible and adaptable, it can be dressed up or down to suit any occasion. Whether you're running errands, hitting the gym, or meeting friends for brunch, athleisure has got you covered.
Plus, it's incredibly practical. No more compromising between style and comfort – you can have both! So, without further ado, let's dive into some of my favorite athleisure outfit ideas and tips.
Outfit Idea 1: Comfy and Chic
When it comes to athleisure, the key is to find pieces that are both comfortable and stylish. For my first outfit idea, I like to start with a pair of high-waisted leggings in a neutral color like black or gray. I prefer a thicker material for more coverage and support. Next, I add a cropped sweatshirt in a bold color or pattern. This adds a pop of fun and personality to the outfit.
To finish off the look, I slip on a pair of chunky sneakers for some height and texture. I also like to accessorize with a simple necklace or statement earrings. For a more polished touch, I might add a denim jacket or blazer on top.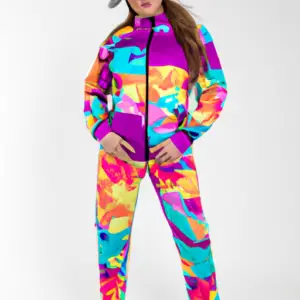 Styling tip: Don't be afraid to mix and match different fabrics and textures for a more interesting look. Play around with proportions and layering to find what works best for your body type.
Outfit Idea 2: It's All About Layers
Hey there! It's time for outfit idea number two. Today, I'm going to talk about one of my favorite looks for athleisure – layers. Layers are a great way to add some texture and depth to your outfit, while also giving you some flexibility in case the weather changes. Here's how you can rock a layered athleisure look:
Start with a simple, fitted tank top or tee as your base layer. From there, add a long-sleeve t-shirt or sweatshirt. Choose one that's a little oversized or slouchy for a comfortable, relaxed look. If it's chilly out, you can even add a lightweight jacket or vest on top of the sweatshirt.
For the bottom half of your outfit, you have a few options. Leggings are always a great choice for athleisure, and there are so many styles to choose from. Whether you prefer high-waisted or cropped, printed or plain, you can't go wrong with a comfy pair of leggings. If you want to mix things up, try a pair of joggers or sweatpants instead.
As for shoes, you'll want to stick with something casual and comfortable. Sneakers are an obvious choice, but you can also try slip-on shoes or even sandals if the weather allows. Finish off the look with some accessories, like a beanie or a scarf, to add some texture and color.
Remember, with this look, it's all about layering and mixing textures. Don't be afraid to experiment and try different combinations. Have fun and make it your own!
Outfit Idea 3: Get Comfy with an Oversized Sweater and Leggings
When it comes to athleisure, comfort is key. That's why an oversized sweater and leggings are the perfect combo for a stylish yet cozy outfit. I like to opt for a sweater with a little texture or detail, like a cable knit or cropped hem, to add some visual interest. For leggings, you can't go wrong with a classic black pair.
When putting this outfit together, don't be afraid to play with proportions. Since the sweater is already oversized, I like to balance it out with a fitted legging. This will also help create a flattering silhouette. If you want to add some extra warmth, you can even layer a fitted tank or tee underneath the sweater.
To complete the look, I usually add a pair of sneakers or slip-on shoes. This keeps the outfit casual and comfortable, while still looking put-together. If you want to dress it up a bit, you could also add a statement necklace or earrings.
For more tips on how to style the latest athleisure trends, check out this helpful guide from Love Laughter Happily Ever After.
Outfit Idea 4: Slaying in Comfy Joggers
Okay, ladies, let's talk about joggers, the go-to bottom wear for many of us. These slouchy pants are a staple in athleisure, and we can style them in countless ways. For a cozy yet chic look, I suggest pairing your joggers with a fitted crop top and denim jacket. The jacket adds structure to the outfit, while the crop top shows off your midriff and keeps the look flattering.
Now, the key to making this outfit work is to choose the right kind of joggers. You don't want to end up looking like you're wearing sweatpants outside your house. Opt for joggers in a tailored fit that closely follow the contours of your legs. For shoes, go with white sneakers, a classic choice that always works with this look. A simple chain necklace and hoops would complete the outfit, keeping the focus on the joggers.
In a nutshell, you can never go wrong with joggers when it comes to athleisure. Just rock them with confidence, and you are sure to make heads turn.
Outfit Idea 5: Feeling Dynamic in Your Athleisure Wear
Hey there, it's your girl back with another athleisure wear outfit idea! This time, we're going for a dynamic and spirited vibe. For this look, I'm going to pair a cropped hoodie with high-waisted leggings.
The cropped hoodie is a perfect match for the high-waist leggings because it perfectly balances out the coverage of the upper half and lower half of our body. Plus, it gives that edge in our style. I suggest a brightly coloured hoodie to exhibit more charisma into your look.
Pair your ensemble with a pair of chunky sneakers. It's essential to choose something that's comfortable because the whole point of athleisure wear is to be able to move freely while looking stylish at the same time. Think of it as 'sneakers are the perfect choice for moving quickly.'
To complete the look, add a dainty crossbody bag to pack all your essentials, such as a water bottle, phone, and headphones.
The final touch is to wear a vibrant lip gloss or lip stain to emphasize your edgy, dynamic style. Finally, go out into the world, run errands, or go to the nearest gym- whatever you feel like doing. Just have fun and be confident in your dynamic athleisure wear look!
Conclusion: Time to Get Your Athleisure Game On!
Well, folks, we've made it to the end of this guide on how to style athleisure outfits. I hope you found it helpful and that you're feeling confident about incorporating athleisure into your wardrobe. Remember that athleisure is all about balancing comfort and style, and there's no one right way to wear it.
My biggest piece of advice is to experiment and have fun! Try mixing and matching different pieces and playing around with different accessories to find an athleisure look that works for you. Don't be afraid to step out of your comfort zone and try something new.
Just remember to keep it balanced – if you're wearing a loose, flowy top, pair it with fitted leggings or joggers. If you're wearing baggy sweatpants, make sure your top is more form-fitting. And don't forget to accessorize – a statement bag or a cool pair of sneakers can instantly elevate any athleisure outfit.
So, what are you waiting for? Get out there and start playing around with athleisure! Just remember – comfort is key, but that doesn't mean you have to sacrifice style. Happy styling!