Styling a Casual Look with Accessories
Hey there, let's talk about the casual look!
It's easy to think that dressing casually means throwing on some sweats and calling it a day, but it doesn't have to be that way. I'm here to show you that adding a few accessories can take your casual outfit from drab to fab. Let's dive in!
Accessorizing By Color: How to Elevate Your Casual Look
When it comes to accessorizing a casual outfit, using color is key. The right accessory in the right color can take a plain t-shirt and jeans from basic to stylish in no time. But how do you know which color to choose? Here are some tips:
Monochromatic Accessories
One easy way to incorporate color into your casual look is by using monochromatic accessories. This means using accessories in varying shades of the same color. For example, if you're wearing a navy blue shirt, try adding a lighter blue scarf or a pair of blue earrings. This creates a cohesive look without being too matchy-matchy.
Complementary Colors
Another way to incorporate color is by using complementary colors. These are colors that are opposite each other on the color wheel, like red and green, or purple and yellow. For example, if you're wearing a green top, try pairing it with a red bag or a pair of yellow sandals. This creates a bold and eye-catching look.
Metallics
Don't forget about metallic accessories! Silver, gold, and rose gold can add a pop of shine and sophistication to any casual outfit. If you're wearing a simple black dress, try adding a statement necklace in gold or silver. Or, if you're wearing jeans and a t-shirt, try adding a pair of metallic sneakers.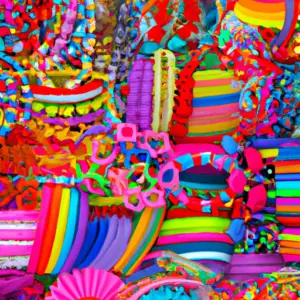 Overall, using color in your accessories is a great way to elevate your casual look. Don't be afraid to try new color combinations and experiment with different styles. With a little bit of practice, you'll be accessorizing like a pro in no time!
Accessorizing With Jewelry: How to Add the Perfect Touch to Your Casual Look
Jewelry can really take your casual outfit to the next level. When it comes to accessorizing with jewelry, I like to keep it simple and let the pieces speak for themselves. Here are some tips for choosing the perfect jewelry to complement your casual look.
Necklaces
A simple necklace can add just the right amount of sparkle to a casual outfit. When choosing a necklace, think about the neckline of your top. If you're wearing a V-neck, a long necklace can help elongate your body and draw the eye down. If you're wearing a higher neckline, a shorter necklace or choker can help create a more balanced look.
Earrings
Earrings can be a fun way to add some color or texture to your outfit. If you're wearing your hair up, statement earrings can really stand out. If you're opting for a more subtle look, studs or simple hoops can do the trick. Just make sure the earrings don't overpower the rest of your outfit.
Bracelets
Bracelets can be a great way to add some personality to your outfit. Depending on the occasion, you could go for a stack of bangles or a simple and elegant cuff. If you have larger wrists, avoid wearing a bracelet that's too tight, as it will look uncomfortable and unflattering.
Overall, accessorizing with jewelry is all about finding the right balance. You want to add some interest to your outfit without overwhelming it. By choosing the right pieces and keeping it simple, you can add the perfect finishing touch to your casual look.
Accessorizing With Bags
Okay, let's be real, bags are my weakness when it comes to accessorizing. They not only serve a practical purpose, but can also add a pop of style to your casual look. Here are my tips for choosing the perfect bag:
Clutches
Clutches are the perfect choice for when you want to keep your look streamlined. They come in a variety of colors and prints and are perfect for carrying your essentials. I like to choose a neutral color, like black or beige, but if you're feeling daring, go for a bold color or print to add some excitement to your outfit.
Cross-Body Bags
Cross-body bags are my go-to bag when I am on the go. They are perfect for when you need to be hands-free, making them ideal for running errands or going out with friends. Look for a bag that has a long strap and enough room for your essentials. I prefer a neutral color, but a bright pop of color can add some fun to your outfit.
Totes
Totes are the perfect bag for when you have a lot to carry. Look for a spacious bag that can fit all of your necessities. I like to choose a tote that has a fun print or design to add some personality to my look. Bonus points if the tote has compartments or pockets to help keep you organized.
Remember, your bag should not only be stylish but functional as well. Consider what you need to carry and choose a bag that can accommodate your essentials. Don't be afraid to mix and match different styles and colors to create a unique look.
Step up Your Style: Accessorizing With Shoes
Okay guys, let's talk shoes! They can make or break an outfit, so it's important to choose the right pair when going for a casual look. One of my go-to's for a chic yet relaxed vibe are sneakers. They're comfortable and versatile, giving your outfit a cool and effortless edge.
If you want to add some height to your look, opt for a pair of platform sandals. They're perfect for a summer day out and can be dressed up or down depending on the occasion. For a little more coverage, go for ankle boots. They're great for transitioning from fall to winter and can add some texture and interest to your outfit.
But let's not forget about the classics – a pair of white sneakers or loafers will never let you down. They're timeless and can elevate a simple outfit to a stylish one. Or if you want to add a pop of color, go for some bright sneakers or sandals. They'll definitely make you stand out in a good way!
My biggest piece of advice when it comes to shoes for a casual look is to prioritize comfort. Don't sacrifice your feet for fashion – there are plenty of stylish options out there that won't leave you hobbling by the end of the day. And always remember to have fun with it!
Wrap It Up: Tips for Nailing Your Casual Look
Alright, folks. We've covered a lot today, from accessorizing by color to picking the right shoes to tie it all together. Now, let's put it all together and create a stylish casual look that's perfect for any occasion. First off, remember that you don't need to spend a fortune to look great. With a little creativity and the right pieces, you can put together a killer outfit without breaking the bank. When it comes to accessories, don't be afraid to experiment. Try mixing and matching different jewelry pieces to find the perfect combination. And if you're wearing a monochromatic outfit, don't be afraid to add a pop of color with your accessories. As for bags, think about what you'll be carrying and what size you'll need. A clutch is great for a night out, while a tote is perfect for running errands. And cross-body bags are a stylish and practical option when you're on the go. Finally, let's talk about shoes. Remember that comfort is key. Go for sneakers or sandals when you'll be doing a lot of walking, and opt for boots when the weather is cooler. Overall, the most important thing is to have fun and experiment with different looks. Don't be afraid to step out of your comfort zone and try something new. With these tips in mind, you'll be nailing your casual look in no time.
Casual Style FAQ
How do you accessorize a plain outfit?
Well, first of all, it's important to keep in mind that accessorizing can really enhance a plain outfit and give it that fashionable touch. One of my favorite accessories for a casual look is a statement necklace. It's easy to pair with a simple top and jeans, and it adds a pop of color or texture to your outfit. Another great option is a scarf, which can not only add style but also keep you warm during colder weather.Now, let's talk about bags. A crossbody purse or a tote can complement a casual outfit while also being practical. It's important to choose a bag that fits the occasion, so if you're going for a daytime look, opt for a more casual and functional bag. On the other hand, if you're headed out for drinks or dinner, a smaller clutch or shoulder bag could be a great choice.When it comes to shoes, you can never go wrong with a cute pair of sneakers or flats. They're comfortable and versatile, and they can easily elevate any outfit. Another option could be ankle boots, which are perfect for fall/winter and can be worn with everything from jeans to dresses.Finally, don't forget about your jewelry! A simple bracelet or pair of earrings can really bring your look together and add a touch of elegance. Just be careful not to overdo it – you don't want to look like a walking jewelry store!In conclusion, accessorizing for a casual look is all about finding the right balance between fashion and function. Don't be afraid to experiment with different accessories and see what works best for your personal style. And remember, confidence is key – so wear your accessories with pride and rock that casual look!
how to accessorize for a casual look
Oh boy, accessorizing for a casual look can be a tricky task. But don't worry, I've got some tips and tricks up my sleeve to help you out. First of all, don't be afraid to mix and match your accessories. You can pair a statement necklace with a simple t-shirt, or add a pop of color with a patterned scarf. It's all about balance.Another thing to keep in mind is to not overdo it. You don't want to wear too many accessories, as it can make your outfit look cluttered and busy. Stick to a few key pieces, such as a watch or a pair of sunglasses, and let them make a statement.When it comes to jewelry, opt for dainty pieces that won't overpower your outfit. A simple bracelet or a pair of stud earrings can go a long way in adding some extra flair to your look. And don't forget about hats! A baseball cap or a beanie can instantly elevate a casual outfit.Lastly, consider the occasion and the season. In the summertime, you can accessorize with a colorful tote bag and some playful jewelry. In the fall and winter, try layering with scarves and cozy hats. And remember, accessorizing should always be fun and reflect your personal style. Good luck!