Hosting Live Music at Your Reception on a Budget
Let's Get the Party Started: Live Music at Your Reception
Are you ready to create a memorable and fun-filled experience for your wedding guests? Then, you might consider having live music at your reception! However, you may have heard that this can be an expensive proposition. Fear not, because I have some tips and tricks to keep costs at bay while still enjoying the magic of live music.
Insider Tips for Keeping the Cost of Live Music at My Reception Low
Hey there, future newlyweds! As someone who recently planned my own reception, I know firsthand that the cost of live music can quickly add up. However, I also firmly believe that having live music is a key element in creating a memorable and enjoyable celebration. So, I've compiled some insider tips for keeping the cost of live music at your reception low without sacrificing the quality of the experience. Here are my top strategies:
Negotiate with the Band/DJ
Don't be afraid to negotiate with the band or DJ for a lower rate. Most musicians are flexible and willing to work with your budget, especially if you're willing to be flexible with your expectations. For example, if you're having a daytime reception, ask if they offer a discounted rate for daytime gigs. Or, if they require a minimum number of hours, see if you can work out a shorter set in exchange for a lower rate.
Consider Using a Student or Local Band
Student or local bands can be a great alternative to hiring well-known and more expensive performers. Plus, supporting local artists can add a personal touch to your celebration. You can often find these types of bands at local music schools or through recommendations from other vendors.
Limit the Type of Music Played
If you're set on having a specific type of music, like jazz or a string quartet, consider limiting it to just a few songs during the reception. You can also opt for a DJ who specializes in that type of music instead of hiring multiple musicians. This will save you money and still give you the vibe you're going for.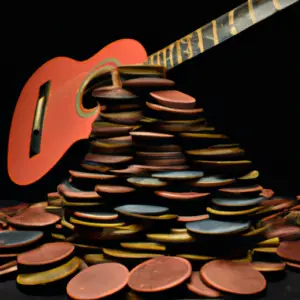 Live music isn't the only form of entertainment you can have at your reception. Consider other options like a photo booth or a magician for some added fun. These types of entertainers may cost less than a live band or DJ and still create a memorable experience for your guests.
By following these insider tips, you can have the live music experience you've always dreamed of without breaking the bank. Happy wedding planning!
Get Your Guests Grooving: The Benefits of Live Music
Let's face it: there's nothing quite like the energy that live music can bring to a wedding reception. As a bride-to-be, I was thrilled to learn about all the benefits that come with having a live band or DJ at my big day. Here are just a few of the reasons why live music is the perfect addition to any wedding reception:
Create special moments
Live music can take on a whole new meaning when it's performed in a wedding setting. Whether you choose a classic love song, a modern pop tune, or even have a special request for your first dance, there's something magical about hearing live music played just for you. The band or DJ can work with you to create moments that will make memories to last a lifetime, like a custom mashup of your favorite songs or a special dedication to someone you love. It adds a personal touch to the celebration that you and your guests will treasure forever.
Get guests up and dancing
There's nothing quite like a packed dance floor to make a wedding reception feel like a true celebration. Live music has a way of getting people up and moving, no matter what their age or background may be. And with the right playlist, the band or DJ can create a dynamic atmosphere that will keep the party going all night long. Plus, the energy of live music can be infectious, so even those who are typically shy or hesitant to dance may find themselves joining in on the fun.
So why settle for a playlist on shuffle when you can have the real thing? Live music can add so much to your wedding reception without breaking the bank – all while creating special moments and getting your guests up and dancing. It's the perfect way to make your big day unforgettable!
4. Conclusion: Phew! We Can Have Live Music at Our Reception After All!
Well, folks, there you have it! Planning a wedding is hard enough without having to worry about spending too much money on the entertainment. But fear not, because I've given you my top tips for keeping costs low, such as negotiating with the band or DJ, considering alternative entertainment options or even hiring a local student band.
But, let's not forget about the benefits of having live music at your reception. It creates special moments that will make your day unforgettable, getting guests up and dancing. You can't put a price tag on that!
If you need more inspiration for affordable wedding ideas, check out Love Laughter Happily Ever After's article about creative and money-saving ideas. Remember, your big day should be exactly as you envision it. So, go ahead and include live music in your reception – it's not as expensive as you might have thought.
In short, if you follow the tips, and incorporate live entertainment into your reception, without breaking the bank, your guests will be talking about your wedding for years to come.
Click here to know more about affordable wedding reception ideas.