2019 Wedding Stationery Trends You Need to Know
Get Ready to Wow Your Guests with Your Wedding Stationery: An Introduction
Ready to create wedding stationery that's completely and undeniably you?
First off, what do we mean by wedding stationery? Simply put, it's the paper goods you'll use throughout your wedding, from your save-the-dates to your thank-you cards.
Although it seems like a small detail, your wedding stationery can actually set the tone for your entire event. When your guests receive a beautifully-designed invitation or save-the-date, it can make them even more excited to attend.
That's why it's important to take the time to craft the perfect wedding stationery. Are you ready to get started?
The Hottest Trends in Wedding Stationery of 2019
Hey there, lovebirds! Are you searching for some inspiration for your wedding invitations and other stationery? Look no further, because I have the inside scoop on the hottest trends of 2019.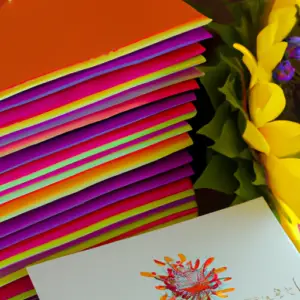 Gone are the traditional white and cream invitations. Couples are opting for bold and vibrant colors to make their invitations stand out. Think rich blues, deep reds, and emerald greens. Don't be afraid to make a statement with your color choices.
Gold Accents
Gold foil, gold glitter, and gold calligraphy are all the rage right now. Adding a touch of gold to your invitations makes them look elegant and luxurious without breaking the bank.
Unique Fonts
Forget about the standard serif and sans-serif fonts. Couples are choosing unique and quirky fonts to reflect their personalities. Handwritten calligraphy, cursive scripts, and vintage fonts are all great options.
Geometric Shapes
Geometric patterns and shapes are all over wedding invitations this year. From triangles to hexagons, these patterns give invitations a modern and sophisticated edge.
Personalization
Couples are personalizing their invitations more than ever. From custom monograms to hand-drawn illustrations, adding personal touches makes invitations feel more intimate and special.
So there you have it, folks – the hottest wedding stationery trends of 2019! But remember, when choosing your invitations, it's important to consider your personal style and the overall theme of your wedding. Want some more expert advice on selecting the perfect invites? Check out this article for some helpful tips. Happy planning!
Get Noticed and Stay Trendy: Benefits of Following the Latest Wedding Stationery Trends
Let's be real: Your wedding day is one of the most important days of your life, and you want to make it memorable. One way to do that is with unique and trendy wedding stationery that will leave a lasting impression on your guests. Here are a few benefits of following the latest trends:
Make an Impression on Your Guests
It's no secret that people love beautiful things. By choosing on-trend wedding stationery, you'll make a great first impression on your guests – before they even arrive at your wedding. They'll get a taste of your style and attention to detail and likely be excited about what's to come. You want your wedding to be memorable, and trendy stationery is one way to achieve that.
Showcase Your Unique Style
Your wedding day is all about you and your partner, so it makes sense that you'd want to showcase your unique style. By choosing trendy stationery that aligns with your aesthetics, your guests will get a glimpse into your individuality. Whether it's through bold colors, unique fonts or personalized touches, your stationery sets the tone for your big day and can reflect your personality as a couple.
Overall, following the latest wedding stationery trends can bring a lot of benefits to your big day. So, don't be afraid to explore different designs, stay up-to-date with the latest trends and choose a wedding stationery that reflects your style and personality. Your guests will appreciate it, and you'll have beautiful keepsakes to cherish for years to come.
Tips for Choosing the Right Design
When it comes to choosing the right wedding stationery design, it can be overwhelming with so many options available. As someone who has been through the process, here are some tips I found useful:
Consider you and your partner's style
Your wedding stationery should reflect both you and your partner's personalities and style. Look for design elements that resonate with both of you. If one of you loves florals and the other loves geometric shapes, consider incorporating both into your design.
Think about the overall theme of your wedding
Your wedding stationery should complement the overall theme of your wedding. If you're having a beach wedding, consider using blue and green tones and incorporating starfish or seashell motifs. If you're having a rustic wedding, consider incorporating wood textures or natural elements into your design.
Look at different designs and trends
Take the time to browse different designs and trends to get a feel for what appeals to you. This will help you narrow down your options and make a more informed decision. Don't be afraid to mix and match different elements to create a truly unique design.
Remember, your wedding stationery sets the tone for your special day and is a reflection of your personalities. With a little bit of research and consideration, you can choose a design that truly represents you and your partner.
Conclusion: It's All About Style
As we've seen, wedding stationery goes way beyond just invitations. It's a way to showcase your unique style and make an impression on your guests. That's why it's vital to follow the latest trends and choose a design that reflects your personality.
When choosing your wedding stationery, consider you and your partner's style. Do you prefer bold and modern or classic and elegant? The overall theme of your wedding can also help guide your design choices. For example, rustic themes often feature natural elements, while beach weddings benefit from ocean-inspired designs.
It's also essential to look at different designs and trends when deciding on your wedding stationery. Bold colors, gold accents, unique fonts, and geometric shapes are all trending in 2019. However, remember that trends come and go, and it's essential to choose a design that you will love for years to come.
Whatever you choose, make sure it reflects your personal style and tastes. Your wedding stationery is an opportunity to show your creative flair and make a lasting impression on your guests. So, have fun with it, and remember to be true to your style!