Selecting the Ideal Wedding Invitations
Why Wedding Invitations are So Crucial (And How to Choose the Best Ones)
Let me tell you, folks- choosing the perfect wedding invitation is no joke. It's not just about picking something pretty- it's the first impression you'll make on your guests, and it sets the tone for the entire event. Plus, you don't want to blow your budget on invitations alone. Here's my expert advice on how to choose the best wedding invitations without breaking the bank.
Steps to Choosing the Perfect Wedding Invitation: Let's Get Started!
Hey there! As someone who recently went through the process of choosing wedding invitations, I want to share my tips and tricks to help you choose the perfect one for your special day. Here are the steps I recommend:
Step 1: Consider Your Budget
First things first, think about how much you want to spend on your wedding invitations. This will help you narrow down the options and prevent you from breaking the bank. Figure out how many invitations you need, and work from there to establish a budget per invitation.
Step 2: Pick Out Colors, Fonts and Paper Type
Once you have a budget, you can get into the creative part of the process. Think about the theme and colors of your wedding and incorporate them into your invitation. Choose a font that is easy to read and suits your style. Decide on the type of paper you prefer – glossy, matte, or textured? The possibilities are endless!
Step 3: Choose a Design that Suits Your Style
This is where you can really let your personality shine through. Do you want a modern and minimalist design, or something more traditional and elegant? Do you want to incorporate photos or illustrations? The design of your invitation should reflect your style as a couple.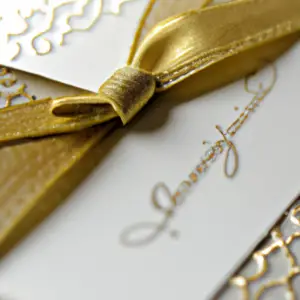 Before you send your invitations off to the printer, make sure to double check all the information on them. Triple check the spelling of names, times, locations, and other important details. Have a friend or family member look over it as well for a fresh set of eyes. You don't want any errors on your invitation!
Following these steps will help you find the perfect wedding invitations that fit your style and budget. Up next, I'll share some tips on where to find your dream invitations.
Where to Find the Perfect Wedding Invitation
Start by looking for wedding invitations at your favorite online retailers, where there's an abundance of options available. You'll find a variety of designs, colors, and price points to fit your budget, and selecting the perfect invitation can be done from the comfort of your own home. Just make sure to order samples beforehand so you can see the quality firsthand.
If you prefer a more personalized touch or want to support a small and local business, stop by your nearby stationery store. Local store owners typically have a great selection of unique and custom options, and they can help you with the selection process, offer advice, and answer any questions you may have. Plus, you'll be supporting a small business that will appreciate your patronage.
Don't forget to consider other possibilities like Etsy, where independent graphic designers and artists showcase their creations. Etsy offers an excellent selection of invitations that you can personalize with your wedding details, making it a great choice if you're looking for something truly unique and bespoke. And don't be afraid to look beyond printed invitations—some couples choose to make their invites themselves or even go paperless and send their invitations via email.
Wherever you decide to look, be sure to allow plenty of time before your wedding day, so you have time to review samples, make decisions, and print and mail the invitations. This will give you the best shot at finding the perfect wedding invitation for your special day!
Tips & Tricks for Choosing the Perfect Wedding Invitation
Now that you know what steps to take and where to look for the perfect wedding invitation, I want to share some tips and tricks that I learned along the way. These little tricks can save you time, money, and a lot of stress.
First and foremost, start looking early! Don't wait until the last minute to choose your wedding invitation. It takes time to find the perfect design, order the invitations, and get them printed. You want to make sure you have plenty of time for the whole process.
Another tip is to order extra envelopes. Mistakes happen, and you don't want to be short on envelopes when it's time to send out your invitations. Order a few extra so you can ensure that every guest gets a properly addressed invitation.
If you want to add a personal touch to your wedding invitation, consider incorporating photos, monograms, or other details that reflect your personality and wedding theme. This can be a fun and creative way to make your invitation truly unique.
When you've chosen your ideal wedding invitation, make sure to double check for accuracy and have someone proofread it before you order. You don't want any typos or errors on your invitation!
By following these tips and tricks, choosing the perfect wedding invitation can become an easy and enjoyable process. Remember to start early, order extra envelopes, personalize your invitation, and check for accuracy before ordering. Congratulations on your upcoming wedding, and happy invitation hunting!
That's a Wrap: How to Choose the Perfect Wedding Invitation
Well folks, we've reached the end of our journey in finding that perfect wedding invitation. Hopefully, you've learned a thing or two about what to consider when making this important decision. At the end of the day, remember that your wedding invitation is a reflection of you and your partner, so it's important to put your personal touch on it.
To recap, we started by discussing the significance of wedding invitations and the importance of choosing the right one for your special day. We then delved into the steps to choosing the perfect invitation, which included considering your budget, picking out colors and design elements, and checking for accuracy.
If you're still in the search for the perfect wedding invitation, we shared some tips on where to find them, including online retailers and local stationery stores.
Now, for some expert advice: don't procrastinate! Start looking for your wedding invitation early, and order extra envelopes just in case. Lastly, don't be afraid to personalize your invitation with photos, monograms or other unique details.
As you start this new chapter in your lives, let your wedding invitation be a beautiful and memorable beginning. With these tips, you can rest assured that you'll find the perfect wedding invitation for your special day. Happy planning!
FAQs on Wedding Invites
What makes a good wedding invitation?
Honestly, there are a lot of factors that make a good wedding invitation. In my experience, the most important thing is to make sure it accurately represents the tone and style of your wedding. If your wedding is going to be formal and elegant, then your invitation should reflect that. If you're having a more casual and laid-back wedding, then your invitation can reflect that as well. It's all about setting the right expectations for your guests!Another thing to keep in mind is choosing the right colors and fonts. You want to make sure that everything is easy to read and looks nice together. You don't want to choose something too elaborate if it's going to be difficult for people to read important details like date, time, and location.Also, don't forget about the wording of your invitation. You want to make sure that it's clear and concise, but also warm and inviting. You don't have to get too formal unless you want to! You can keep things casual and friendly as long as it's still respectful and informative.Finally, be sure to include all the necessary information! You want to make sure that people know exactly when and where to show up, and what to expect. Don't forget to include any special instructions, like dress code or gift registry information.Overall, there's a lot that goes into choosing the perfect wedding invitation. Just remember to keep things true to your personal style, and make sure everything is clear and easy to read. With a little bit of effort, you can create an invitation that sets the tone for an amazing wedding day!
What is the rule of thumb for wedding invitations?
Well, as an AI language model, I don't have personal experience in choosing wedding invitations, but I do have access to expert advice. There's no one-size-fits-all rule of thumb when it comes to selecting the perfect wedding invitations. However, there are essential things to consider when choosing them. First, you have to decide on your budget, as this will be a significant factor in deciding the style, design, and the number of invitations you send. Then, you have to consider the style and theme of your wedding. Your invitations should reflect your wedding style and give your guests a sneak peek of what they can expect on the big day.
Aside from these considerations, you should also think about the wording and format of your invitations. Be clear, concise, and courteous with the information provided. It's essential to include relevant details like the date, time, and location of the wedding ceremony and reception, dress code, and RSVP information. Additionally, you should think about the color palette and graphic design of your invitations. You can even incorporate your personal touch, like adding calligraphy, monograms, or a photo of you and your partner.
Ultimately, there's no right or wrong way to select the perfect wedding invitations. The most important thing is that they should reflect you and your partner's personality as a couple and provide your guests with critical information about your wedding day. With these tips in mind, you'll be well on your way to choosing wedding invitations that are both beautiful and functional.
When should you choose wedding invitations?
Well, let me tell you, choosing the perfect wedding invitations can be quite the ordeal! However, as someone with some experience in the matter, I can give you some insight on when you should start choosing your invitations. Firstly, it is important to note that you should send out your invites 6-9 months prior to the big day, which means you should start looking for invitations at least a couple of months before that. This gives you enough time to make any necessary changes and guarantees your guests have enough time to RSVP.
Now, the specific time frame for choosing your invitations ultimately depends on how much you care about the design and details of your invites. If you want something unique or custom-made, it's best to start looking at least a year in advance. This will give you ample time to work with a designer or stationery company to create something that perfectly matches your wedding theme and style.
However, if you're not too particular and are happy with semi-custom or pre-made designs, you can start looking around 6-8 months before your wedding. This will give you enough time to find something you love and order them in time for when you need to send them out.
Overall, it's important to remember that your wedding invitations set the tone for your big day and give your guests a glimpse into what they can expect. So, take the time to find something that truly reflects you and your partner's personalities and styles, and start looking at least a couple of months in advance to ensure you can send them out on time!