Inexpensive Catering Ideas for Your Wedding Reception
Welcome to My Guide on Inexpensive Catering for Your Special Event!
Hey y'all, I'm excited to share some tips and ideas with you for hosting a budget-friendly catering event. First off, let's define what I mean by "inexpensive catering." For me, it's about finding ways to serve delicious, crowd-pleasing food without breaking the bank. It's not about sacrificing quality or settling for boring menu options, but rather about being creative and resourceful with the resources you have.
Catering Ideas That Will Save You Money
When it comes to planning a wedding or event, catering can be one of the most expensive aspects. However, there are many catering ideas that can help you save money while still providing delicious food for your guests.
One great idea is to have a potluck reception. This is where each guest brings a dish to share, which can cut down on the cost of hiring a caterer. Plus, it's a great way to get everyone involved and showcase different family recipes.
Another option is to have a BBQ or picnic reception. Grilling up burgers and hot dogs can be a fun and casual way to feed a large group of people. Plus, you can decorate the area with picnic tables and blankets for a cozy vibe.
Consider hiring a food truck for your reception. This can be a unique and cost-effective way to provide a variety of food options for your guests. Plus, food trucks often have smaller minimum order requirements, which can save you money in the long run.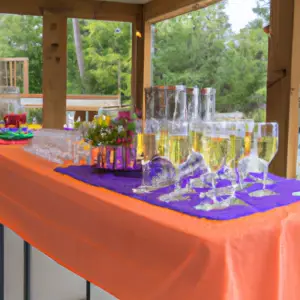 If you're feeling ambitious, you could even prepare your own homemade meal for your guests. This can be a great way to showcase your cooking skills and provide a personalized touch. You could even involve family and friends in the cooking process to make it a group effort.
Overall, there are many catering ideas that can help you save money without sacrificing taste or quality. It's all about thinking outside the box and getting creative with your food options.
Why Inexpensive Catering is the Way to Go
Let's face it, weddings can be expensive. But did you know that you can still have a delicious and satisfying meal without breaking the bank? That's where inexpensive catering comes in. Here are some benefits to keep in mind:
Cost Savings
The biggest benefit of inexpensive catering is the cost savings. By opting for cheaper catering options, you can free up money to spend on other aspects of your wedding. Plus, you can feed more guests without overspending. And who doesn't love saving a few bucks?
Unique Food Options
Inexpensive catering doesn't have to mean boring or basic food. In fact, going for low-cost options can allow you to experiment with more unique and creative dishes. You could have a DIY taco bar, or a buffet of different soups and stews. Don't be afraid to think outside the box!
Less Wastage
When you spend a lot on catering, you may feel the pressure to provide an abundance of food. This can lead to a lot of waste if your guests don't have big appetites. With inexpensive catering, you can avoid this problem by providing just enough food for your guests without going overboard.
Eco-Friendly Options
Many inexpensive catering options, such as potluck or homemade meals, can be more environmentally friendly than traditional catering. By using reusable dishes and cutting down on food waste, you can reduce your carbon footprint while still having a memorable wedding.
Overall, there are many benefits to opting for inexpensive catering for your wedding. By saving money and experimenting with unique dishes, you can have a memorable and satisfying meal without overspending. So, don't be afraid to get creative and enjoy!
Tips for Nailing an Inexpensive Catering Reception
Let's face it; going all-out for a wedding or event can seriously drain the funds. That shouldn't stop you from having a fabulous spread at your reception. If you're working on a tight budget, the good news is that there are various options to choose from.
Step 1: Set a Realistic Budget
You probably don't want to start with this step, but it's crucial. Begin by setting the amount you intend to spend on the catering service. You can adjust the budget by prioritizing the options you want in your menu. The cost isn't the only consideration; the location, number of guests, and the type of food you want all play a part in determining the budget.
Step 2: Research Local Caterers
The best way to save money on catering is to find a catering business that's capable of serving your menu at a lower price. Compare the fees of local caterers and go for the cheapest option. However, don't compromise on quality to save money. Read reviews online and talk to people you know who may have experience with a local caterer before booking them.
Step 3: Ask Friends and Family for Help
Friends and family can be an invaluable asset when it comes to catering receptions. If you have someone who loves to cook, you can enlist their help in preparing the food. They can help you chop and prepare vegetables, wash dishes, and set up the buffet, and it'll be all the more fun because you get to share the experience with people you love.
Step 4: Be Creative
There's no need to follow the traditional reception meals if you're looking for something out of the ordinary. Consider doing a brunch buffet or a potluck reception. Food truck or a picnic is just as fun as a sit-down dinner, and with a little creativity, you can make it memorable. Think outside the box to change things up and add spice to your reception party.
Step 5: Stick to One Cuisine
Inexpensive catering requires sticking to one cuisine. I recommend picking one cuisine that you'd like to pair with beer or wine. Guests are sure to enjoy your choices if you have just one cuisine that's properly presented to them rather than a mix of poorly executed snacks and drinks. Choose a budget-friendly cuisine and keep it simple to avoid overspending on catering.
With these tips, you can host an incredibly successful and delicious catering reception without having to break the bank.
Conclusion: Put Together an Affordable and Delicious Reception
Well folks, we've come to the end of this blog post and I hope I've given you some great ideas for putting together an affordable and delicious reception. Remember, just because you don't have a huge budget doesn't mean you have to skimp on flavor or style. In summary, we discussed some fantastic options for budget-friendly catering, including potluck receptions, BBQ or picnic receptions, food truck receptions, and homemade meal receptions. These ideas can save you money while also providing unique and memorable options for your guests. My final advice is to keep a few things in mind as you plan your affordable reception. First, set a realistic budget and stick to it. Second, research local caterers and consider doing a tasting to make sure you're getting good value. Finally, don't hesitate to ask friends and family for help with food, decorations, and other aspects of the reception. If you're still looking for more inspiration, check out this article on affordable wedding reception ideas from Lovelaughterhappilyeverafter.com. It's full of great tips and advice for putting together an event that's both affordable and unforgettable. So go forth and plan your perfect reception, without breaking the bank!