Understanding Your Body Type: How to Dress For Any Shape
The way you dress isn't just about fashion; it's also about highlighting your best assets and making sure you feel confident. But with so many body types, it can be tricky to find clothes that fit and flatter. That's why it's important to know what type of shape you have and how to dress for it.
When it comes to understanding your body type, the first step is getting familiar with the four major shapes. These four body types—hourglass, apple, pear and athletic—make up the majority of body types out there. So let's take a look at each of them and how to dress accordingly.
Dressing for an Hourglass Body Type
If you're blessed with an hourglass figure, you're in luck! This body type allows for a wide variety of clothing options that are sure to show off your assets and make you look fabulous. Let's break it down:
Characteristics of an hourglass body type: If you have an hourglass shape, you've got curves in all the right places. Your bust and hips are about equal width, and your waist is considerably smaller than both. You likely have some definition in your arms and waist.
Clothing that highlights the bust and waist: For those lucky ladies with an hourglass figure, choosing clothes that emphasize your curves and draw attention to that killer waistline is key. Tailored pieces like blazers, form-fitting dresses, pencil skirts and wrap tops will do this job well.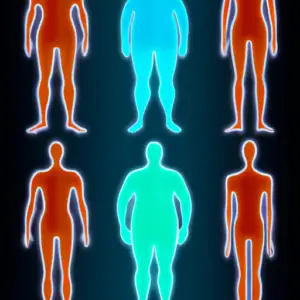 Tips for finding the right pieces: To get the most out of your hourglass shape, look for garments with a defined waistline—belts, cinched waists, and darts are great for adding structure. When shopping for bottoms, the fit should be snug and classic. Avoid anything too loose or baggy as this can make you appear larger than you are. Finally, always go for pieces that hug your curves rather than hide them — you've got 'em, so flaunt 'em!
Dressing for an Apple Body Type
If you have an apple body type, it can be quite challenging when it comes to finding clothes that flatter your figure. But don't worry; I'm here to help.
An apple shape is characterized by carrying most of your weight in the stomach or midsection. So, if you've got an apple body type, it's important to know the best ways to dress to draw attention away from your middle.
My top tip is to choose clothing that provides more structure and definition. Think sharp lines and tailored pieces – T-shirts, blazers and jeans will all work perfectly! For pants, try pleated styles; for tops, collect basic tees, delicate blouses and statement knitwear; for skirts and dresses, think textured fabrics, draping cuts and asymmetrical hemlines.
By choosing items like these, you'll create an eye-catching silhouette to show off your best assets. And of course, accessorize away! Contrasting jewelry, scarves and handbags will bring the look together and make sure all eyes are on you.
Dressing for a Pear Body Type
Ah, the pear body type! Let's face it, we all have those days when nothing fits right – but with a few tips and tricks, dressing for this body shape can be easy. Here's how I do it.
First things first, you gotta take into account the characteristics of your pear-shaped figure. Basically, broad shoulders, slim waist, and rounded hips. You want to balance out your proportions by accentuating the upper half of your body. That means showing off those shoulders, bringing focus to your décolletage, and keeping accessories on the structured side.
For me, clothes that highlight my bust and waist always do the trick. Cinched waists and tailored jackets bring attention up top, so don't be afraid to emphasize those curves! And of course, when in doubt – show off some leg! High-rise jeans or skirts make for great statement pieces.
As for finding the right pieces, I'm a big fan of shopping around. Whether you're hitting up your favorite department store or browsing online, take your time and try on different styles. Never underestimate the power of accessories either! A great scarf or statement earrings can complete any look.
So there you have it – fashionista secrets tailored just for you! Now go forth and dress to impress!
Dressing for an Athletic Body Type
Got a muscular frame and broad shoulders? That's what I like to call the athletic body type. It can sometimes be tricky to dress for this body shape, but if you pick the right pieces, you can look amazing! Here are a few tips to help you out.
First off, let's talk about the characteristics of this body type. Most of us with an athletic body type have flat torsos, which means it could be hard to create curves and definition. You may also have well-defined arms, a strong back, and muscular legs.
Now that we've got that out of the way, on to the clothes. To emphasize your curves, opt for tailored pieces like blazers, vests, and fitted jackets that fit to your body. You don't want anything too loose or baggy, as that will just make you look boxy. Choose darker colors to help give you more definition. And don't forget to embrace those powerful legs – ditch the jeans and try a funky mini skirt instead.
To create balance, wear layers that add volume to your upper half. A boyfriend cardigan or an oversized sweater will make your arms look smaller in comparison. As for your feet, go for pointed toe shoes or ankle boots to add some height, or show off those toned calves with stiletto heels.
That's it! Just remember, try to highlight your best features and you'll look fab in no time. Now go rock that athletic body because when you embrace it, you're unstoppable!
Concluding Thoughts on Dressing for Your Body Type
When it comes to dressing for your body type, it's all about finding the pieces that make you feel the most confident. As we've seen, there are unique tips and tricks for each body type. From hourglass curves to athletic frames, there are so many options out there.
For an apple, think of ways to draw attention away from the midsection and towards the top and bottom. Same goes with a pear body type: choose clothes that up the ante when it comes to the upper body. Hourglasses should keep their signature shape in mind when picking pieces that highlight the bust and waist. And for those with an athletic build, tailored items can be great for emphasizing curves.
At the end of the day (no pun intended), the best clothing is the kind you love wearing. Trust your instincts, try on everything, and don't settle for anything less than the perfect fit. Plus, don't forget to accessorize! You've got this – go ahead and rock that look!