Athleisure's Impact on 2023 Style
Why Athleisure is Changing the Fashion Game
Hi there, fashion lovers! Let's talk about athleisure, a fashion trend that's been on the rise for the past few years. Athleisure is a comfy-chic style that allows you to look stylish while feeling comfortable. It's a mix of athletic and leisurewear, hence the name! This trend has taken the fashion industry by storm and it's not slowing down anytime soon. In fact, athleisure is predicted to be the future of fashion.
As someone who loves fashion, I'm always on the lookout for new and exciting trends, and athleisure is one trend that I can't get enough of. Not only is it comfortable, but it also allows you to express your personal style. You can dress it up or down, and the possibilities are endless.
Current Trends in Athleisure: The Scoop on What's Popular
Let's face it, athleisure is everywhere. From the streets to the runway, it seems like comfortable and stylish workout gear is here to stay. But what exactly are the current trends in athleisure? As someone who loves keeping up with all things fashion, I'm here to give you the scoop.First off, when it comes to clothing items, sports bras and leggings are still reigning supreme. Brands are increasingly designing sports bras with unique features like back cutouts, adjustable straps, and even built-in pockets. The same goes for leggings – expect to see designs with cutouts, mesh panels, and even ruffles. And don't forget about oversized sweatshirts and joggers – they're perfect for a cozy day at home or running errands.When it comes to colors and prints, the possibilities are endless. Classic black and white will always be in style, but bold colors like neon green and bright pink are having a moment right now. Animal prints like leopard and snake are also popular, as well as camo and tie-dye.Overall, the key to nailing the athleisure trend is finding pieces that are both functional and fashionable. You want to be able to hit the gym or yoga class in your clothes, but also be comfortable wearing them out and about. And don't be afraid to mix and match – pair a sports bra with high-waisted jeans, or dress up your leggings with a blazer and heels. The possibilities are endless, so have fun with it.
Predictions for 2023
As someone who follows fashion trends closely and has a passion for athleisure, I have some predictions for what we can expect to see in the world of athleisure in 2023. Keep in mind that these are just my opinions and observations, but I believe they are worth considering if you're someone who likes to stay ahead of the fashion curve!
Upcoming Materials and Textiles
In terms of materials and textiles, I predict that we will see a shift towards more sustainable and eco-friendly options. Recycled fabrics, organic cotton, and hemp will become more widely used in athleisure clothing. Companies will also prioritize incorporating technological advancements that blend practicality, fashion and sustainability.
Predicted Color Schemes and Patterns
When it comes to colors and patterns, I think we will see a combination of bold and muted tones. Muted earthy tones such as olive green and rust will be popular, as well as pastel pinks and blues. As for patterns, tie-dye will continue to be a trend, as well as interesting new interpretations of animal prints.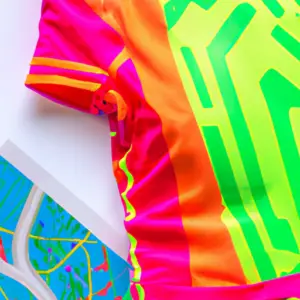 Aside from materials and colors, I believe that we will see a rise in functional details such as pockets, zippers, and ventilation. We will also see a continued emphasis on versatility, where pieces can easily be dressed up or down. Finally, I predict that gender-neutral and inclusive sizing options will become the norm, leading to greater diversity and representation in the world of athleisure.
Overall, I view these predictions as positive developments for the athleisure industry. It's exciting to think about how fashion and functionality will continue to merge in new and innovative ways. I can't wait to see what the future holds!
Athleisure as Everyday Wear: Comfy Clothes are the New Normal
Let's face it, athleisure is no longer just for the gym. It's become a fashion statement and a lifestyle choice. It's rare to see anyone wear stiff, uncomfortable clothes anymore. Athleisure clothing is simply what we reach for every day. The boundary between fitness apparel and casual wear continues to blur. For me, this shift in style has been a game changer.
I'm a firm believer in the idea that if you look good, you feel good. And now, with athleisure as everyday wear, I can be comfortable and stylish at the same time. I can wear leggings or joggers with a flannel shirt and sneakers and feel confident and put together.
The thing is, athleisure has become so versatile that it's now appropriate for almost any occasion. Whether I'm running errands, working from home, meeting a friend for coffee, or even going out for dinner, I can dress in an athleisure outfit that suits the occasion. And with so many styles to choose from, I can express myself in a way that's both comfortable and true to my personal style.
There's no denying that comfort is a huge factor when it comes to athleisure as everyday wear. But it's not just about being comfortable physically. It's also about being comfortable in your own skin. It's about feeling confident and being able to move freely without feeling restricted. It's about wearing clothes that make you feel like yourself.
Athleisure is here to stay. And that's good news for those of us who value comfort and style. It's a trend that's evolved beyond just workout clothes and has become a lifestyle choice. And I, for one, am a proud convert to the athleisure way of life.
Conclusion: Athleisure is Here to Stay, But it's Evolving
After looking at current trends and upcoming predictions, I believe that athleisure isn't going anywhere anytime soon. Athleisure has become a staple in many people's wardrobes, and it's clear that there's a demand for stylish and comfortable clothing. However, as with any trend, athleisure is evolving.
Some of the predicted upcoming materials and textiles prove that athleisure is becoming more sustainable and eco-friendly. Brands are also starting to incorporate more sustainable practices into their production, which is something to look forward to. Additionally, the predicted color schemes and patterns show that there's going to be a shift towards darker and more bold colors, which will make a statement in the fashion world.
What's great about athleisure is that it's becoming more accepted as everyday wear. It's not just for the gym or running errands anymore. People are incorporating athleisure pieces into their personal style, mixing high and low-end items for a more elevated look. Of course, comfort is still a priority, but fashion is becoming more of a consideration when choosing athleisure items.
Overall, it's safe to say that athleisure is a trend that's here to stay, but it's evolving. With the predicted changes in materials, colors, and patterns, we can expect to see some exciting new designs in the future. As someone who loves to live in comfortable clothing, I'm definitely excited to see where this trend goes. If you want to read more about the athleisure trend, check out this great article from Love Laughter Happily Ever After here.