Create a Stunning Wedding Reception on a Budget
Here's Why I Wrote This: A Wedding Reception Look that Won't Break the Bank
Hi, everyone! I'm a wedding planner, and I've seen my share of couples worrying about having a fantastic wedding reception but not wanting to go over budget. That's why I decided to write this article about creating a stunning wedding reception look even when you're on a tight budget. Weddings are all about celebrating, and it should be a memorable day without the added stress of breaking your bank account. By implementing the right strategies and tips, you'll have the wedding reception of your dreams without any regrets.
Tips on Creating a Stunning Wedding Reception Look on a Budget: Let's Get Creative!
Planning a wedding can be an overwhelming and costly experience, especially when it comes to the reception. But fear not! With a little creativity, you can still achieve a magnificent look without breaking the bank.
Rethink the Venue
Instead of splurging on an expensive venue, consider alternative locations such as a backyard, park, or even a friend's beautiful property. Outdoor spaces options will not only save you money but give you a natural backdrop that can be effortlessly transformed into your dream wedding.
Shop Around for Decorations and Supplies
Don't rush into purchasing decorations from a single supplier or store. Take the time to research deals and discounts from different shops and websites. Try to negotiate prices, especially if you make a bulk purchase. Keep an eye out for sales or clearance sections in stores. Remember to also keep it simple; sometimes less is more and will have a more significant impact on your wedding's overall ambiance.
DIY Wherever Possible
The DIY approach is a great way to create fantastic yet straightforward decorations. You can ask friends and family members to help with DIY crafts like centerpieces, place name cards, or a photo booth backdrop. Creating personalized decorations like these adds an extra touch of charm to the wedding. If you take on larger DIY projects like the wedding arch, ensure that you have enough previous experience or assistance.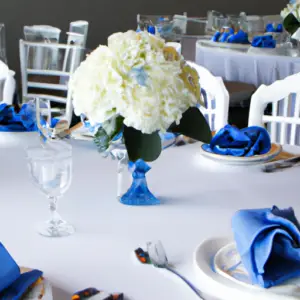 Maximize your resources, use what is already available at the venue or home. Consider using antique pieces, family heirlooms, or even rented items to save money. Focus on areas that guests see the most, such as the entrance, dining tables, and entertainment spaces.
So there you have it, stunning wedding reception decor tips on a budget. Keep it simple, take advantage of what's available, and be creative. With a little effort and imagination, you can have the wedding reception you've always dreamed of!
Further Resources
Looking for more ideas and inspiration? Check out some of our favorite wedding blogs:
Green Wedding Shoes
Ruffled Blog
The Knot
Tips for a Beautiful Budget-Friendly Wedding Reception
Hey there, congratulations on your upcoming wedding! Now that you've seen our tips on saving money for your reception, you may be wondering how to pull it off and still have a stunning event. Fear not, for I have gathered some expert advice to help you create the wedding reception of your dreams without draining your bank account.
First of all, remember that your venue doesn't have to break the bank. Consider unconventional locations, such as a friend's backyard or a local park, for your reception. Not only will this save you money on the rental, but it can also give your wedding a unique and personal touch.
Next, don't limit yourself to expensive decorations and supplies. Shop around for affordable options, such as dollar stores or online marketplaces. You may also want to consider borrowing decorations from friends or family members who have recently tied the knot.
If you're feeling crafty, DIY projects can also help save you money. From centerpieces to table runners, nearly everything can be made by hand. There are countless tutorials online to help guide you through the process.
Lastly, making use of what you already have can go a long way. If you or someone you know has a talent for baking, consider making your own wedding cake or desserts. Similarly, utilizing personal items as part of your décor can add a sentimental touch to your event.
In conclusion, there are many ways to have an amazing wedding reception without breaking the bank. Remember to be resourceful, creative, and open to unconventional options. For more inspiration, check out this helpful article on affordable wedding reception ideas. Best of luck and congratulations again!