Transform Your Reception Venue on a Budget
DIY Your Reception Venue: Making Your Big Day Special Without Breaking the Bank!
Hey there, DIY bride-to-be! Are you ready to transform your reception venue into a breathtaking masterpiece without spending a fortune? Well, you're in luck! DIY (or do-it-yourself) is all about taking matters into your own hands and creating something amazing from scratch.
Now, I know what you're thinking – "But I'm not creative!" Well, let me tell you, creativity is not something exclusively reserved for artists and designers. Anyone can unleash their creativity with a little bit of inspiration, effort, and guidance. Not only will DIY-ing your reception venue save you money, but it will also give you a sense of pride and accomplishment knowing that you've created something truly unique for your big day.
So, let's get started!
Creative AF: How to Transform Your Reception Venue on a Budget
When it comes to wedding planning, venues can eat up a significant chunk of your budget. But fear not, there are plenty of creative ways to transform your reception space without breaking the bank. Here are my top DIY ideas:
Table Decor
Get your creative juices flowing by making your own centerpieces. thrift stores and flea markets are great places to find inexpensive vases, candle holders, and other decorative elements. Flowers can be costly, so consider using greenery, branches, or even fruits and vegetables for a unique touch. Mix and match colors and textures to create a cohesive look.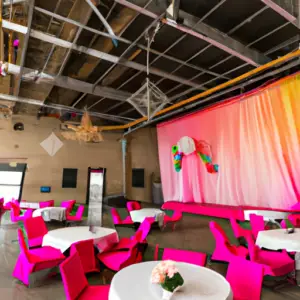 You don't need elaborate decorations when you have nature's bounty. Incorporate elements like stones, driftwood, and seashells into your decor for a beachy vibe. Use potted plants or wildflowers to add a fresh pop of color. And don't forget about lighting – string up fairy lights or lanterns for a magical atmosphere.
Ambiance
Create a mood with thoughtful details. Set up a cozy lounge area with plush pillows and blankets for guests to relax. Hang photos or artwork on the walls, or create a photo wall with pictures of you and your partner. For a touch of whimsy, use balloons or streamers in your wedding colors.
Shopping Smartly
Before you start buying decor items, think about what you already have and what you can borrow from friends and family. Shop at discount stores or online for sales and deals. And don't be afraid to negotiate with vendors – they may be willing to offer discounts if you bundle services or buy in bulk.
Asking for Help
Enlist your friends and family to help with DIY projects or setup on the day of the wedding. Not only will it save you money, but it can also be a fun bonding experience. Just be sure to assign tasks in advance and communicate clearly to avoid any confusion or stress.
Making Use of What You Already Have
Take a look around your home for items that can be repurposed for your wedding. Maybe you have a collection of vintage bottles that can be used as vases, or a fabric stash that can be used to create table runners. Get creative and think outside the box!
With a little creativity and planning, you can transform your reception venue into a dreamy space without spending a fortune. Plus, the personal touch of DIY decor will make your wedding all the more special.
Tips for DIY-ing Your Reception Venue
Alright, folks! So you're thinking about transforming your reception venue on a budget? Let's get down to business. Here are my top tips for DIY-ing your reception venue without breaking the bank:
First things first, don't overspend when you're shopping for decor. Head to your local thrift stores, secondhand shops, and garage sales. You never know what hidden treasure you'll find there. What's more, make use of coupons! Check out websites such as Groupon or LivingSocial for deals on decor.
You don't have to do everything on your own. Reach out to family and friends for help. Ask them to pitch in with decorations, centerpieces, and lighting. You'll be surprised by the creative ideas they come up with.
Use what you already have! Don't be afraid to reuse items from your ceremony for your reception. For example, repurpose your altar decorations and use them as the backdrop for your sweetheart table. Or use the bouquets from the bridesmaids as centerpieces for your reception tables.
Check out affordable wedding reception ideas online for inspiration. Remember, the most memorable weddings are the ones that are unique and reflect you as a couple.
Keep it simple! Don't overcomplicate things. Create a checklist of what you need and stick to it. Don't go overboard with DIY projects. Remember, the goal is to create a beautiful ambiance for your reception, not to stress yourself out with too many tasks.
So there you have it, my top tips for DIY-ing your reception venue on a budget. Remember, it's not about how much you spend, it's about the special memories you create with your loved ones. Let's get to work!
Transforming Your Reception Venue on a Budget: DIY is the Way!
So there you have it – my extensive list of creative DIY ideas to take your reception venue from blah to beautiful. Not only should you feel inspired to get crafty, but you should also recognize the benefits of tackling the task yourself. Not only will you save a pretty penny (or several), but you'll also add a personal touch to the space and create a unique atmosphere that can't be replicated.
But before you dive headfirst into your DIY transformation, consider these tips. First, shop smartly by comparing prices and browsing second-hand stores for decor items. Second, don't be afraid to ask for help. Friends and family are often willing to lend a hand and offer their creative input. Finally, don't overlook what you already have. A little creativity can go a long way in repurposing items you already own.
Now, grab your glue gun and get to work! Whether you're decorating tables with handmade centerpieces, utilizing natural elements like flowers and foliage, or creating ambiance through lighting and music, you have all the tools you need to make your reception venue one for the books. Happy DIY-ing!