Enjoy an Unforgettable Honeymoon on a Budget
You're Engaged! Let's Talk About Your Honeymoon
Hey there, lovebirds! Congratulations on your engagement! I'm here to help you plan the honeymoon of your dreams on a budget. First, let's define what a honeymoon is: it's a romantic trip taken by newlyweds to celebrate their marriage and spend time together. But it's not just about romance, a honeymoon can also bring many benefits like stress-relief, relaxation, and intimacy.
Planning the perfect honeymoon doesn't have to break the bank. Researching destinations, finding deals, and creating a budget in advance can help you save hundreds of dollars. Don't worry, I'll share plenty of tips with you. Remember, a honeymoon is a vacation, so it's important to make it as stress-free as possible.
Let's get started!
Planning Your Honeymoon: Let's Get Started!
So you're engaged, congratulations! Now it's time to plan the perfect honeymoon. But where to begin? First things first, start researching your dream destinations. Pick a location that you've always wanted to visit or a place that has significance to your relationship. For expert advice on budget-friendly honeymoon destinations, check out this article here.
Once you've picked your location, it's time to start looking for deals and discounts. A budget-friendly honeymoon doesn't have to mean skimping on luxury. Look for package deals that include flights, accommodations, and activities. Websites like Expedia and Kayak offer great options and can help create a budget plan.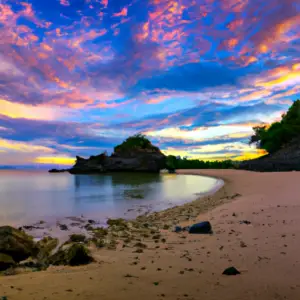 Speaking of budget plans, it's important to create a realistic budget for your honeymoon. Figure out how much you're willing to spend and stick to it. Remember, the most important part of your honeymoon is making memories with the person you love, not the price tag attached to it.
When it comes to accommodations, there are many options for savvy travelers. Hostels are a budget-friendly option for those who don't mind sharing a room. Sites like Airbnb also offer affordable and unique lodging options, such as a local's home or a treehouse. For last-minute deals, websites like Hotwire can offer great discounts.
Transportation is another area where you can save money. By taking advantage of public transportation options, like buses and trains, you can explore your destination at a fraction of the cost of a cab or rental car. However, if you're looking to visit nearby cities or attractions, renting a car may be the way to go.
One of the best ways to experience a new location is through its cuisine. Eating at local restaurants, shopping at markets, and cooking meals together can create lasting memories and save money on dining out. Not sure where to start? Check out food tours or cooking classes in your destination.
Finally, participating in activities is a must on any honeymoon. Exploring local culture, hiking or biking trails, and visiting museums are all great options that won't break the bank. Make sure to research free or discounted admission days ahead of time.
By following these tips, you can plan a budget-friendly honeymoon without sacrificing romance or adventure. Now, let's create some unforgettable memories!
Save Money on Honeymoon Accommodations
As someone who recently planned a budget-friendly honeymoon, I learned that accommodations can be one of the biggest expenses. However, with a little creativity and research, it's possible to save money without sacrificing comfort or style.
Staying in Hostels
When I first thought of staying in a hostel, I pictured cramped dorm rooms and communal showers. However, many hostels now offer private rooms with ensuite bathrooms, making them a viable option for couples. Hostels often have shared common areas and kitchens, which can be a great way to meet other travelers and save money on meals. Plus, they tend to be in central locations, making it easy to explore the area without spending a lot on transportation.
Renting an Airbnb
Airbnb has become an increasingly popular choice for budget-conscious travelers. You can rent an entire apartment or house, often for less than the cost of a hotel room. This option gives you more space and privacy, which can be especially appealing on a honeymoon. Plus, you can often find unique and stylish accommodations that you wouldn't find in a typical hotel.
Booking Through Websites Like Hotwire
Websites like Hotwire and Priceline offer deals on hotels and other accommodations by keeping the name of the hotel a secret until after you book. This can be a great way to get a discount on a high-end hotel or resort. However, be aware that you won't know the exact location or amenities until after you book, so this option may not be for everyone.
By being creative and open-minded about your accommodations, you can save money on your honeymoon without sacrificing comfort or style. Whether you choose a hostel, Airbnb, or a secret deal through Hotwire, you'll have more money to spend on experiences and making memories with your partner.
Rev up Your Honeymoon with Smart Transportation Choices
When planning a honeymoon, transportation is often an afterthought. But it's essential for getting around the destination, discovering hidden gems, and making the most of your time. Here are some transport tips for a more budget-friendly, yet adventure-packed honeymoon.
Embrace Public Transport
Public transportation is a great way to explore new places like a local. It's usually cheaper than taxis or rental cars and provides unique experiences. For instance, in New York City, you can take the subway to Coney Island and ride the Cyclone roller coaster. In London, you can hop on a double-decker bus and admire Big Ben from the top deck. Make sure to research different transit options in your destination, buy discounted passes, and plan your routes ahead of time.
Savvy Rental Car Choices
Rental cars can be an excellent choice for getting around in some destinations such as remote or rural areas. However, it's essential to do your research before booking. Check different car rental providers' prices, read reviews, and be aware of extra fees or clauses. Moreover, think about the type of car you'll need, based on the terrain, weather, and number of passengers. If you're not comfortable driving in a foreign country, you can always hire a driver or take guided tours.
Take a Side Trip
While on your honeymoon, don't forget to explore nearby cities or attractions. Doing so can give you a new perspective on your destination and save you money. For example, if you're honeymooning in Florence, take a day trip to Siena, a beautiful town known for its medieval architecture, countryside views, and cuisine. Or, if you're honeymooning in Hawaii, hop on a boat to Molokai, an island with stunning waterfalls, hiking trails, and a laid-back vibe.
There you have it — some tips to level up your honeymoon transportation game. Keep in mind that good transportation can make or break your trip, so plan wisely, be flexible, and enjoy the ride!
Indulging in Local Flavors: How to Savor Your Honeymoon
One of the best ways to experience a new place is through its food. During my honeymoon, my spouse and I made sure to try all the local delicacies we could get our hands on. Here are some tips on how to indulge in local cuisine without breaking the bank.
Eating at Local Restaurants
Forget those chain restaurants you're familiar with! Instead, ask locals for recommendations on where to eat. Not only will you get a taste of authentic cuisine, but you'll also get the chance to connect with the locals. If you're on a tight budget, try looking for local cafes or street vendors instead. These options are often cheaper and give you a real feel for the local food culture.
Shopping at Markets
If cooking is your thing, try shopping at local markets where you can find fresh ingredients for your own meals. This is a great way to experience local produce and discover what the region's specialty dishes are. Bonus tip: bargaining could help you score a great deal.
Cooking Meals Together
Sharing a kitchen with your partner is a romantic experience on its own. Instead of dining out every night, try cooking a meal together with the ingredients you've bought from the local market. This can save you money and create a fun bonding experience. Don't be afraid to experiment with local recipes. Cooking together and having fun experimenting with the dishes will create lasting memories you will cherish together for years to come.
By following these tips and indulging in authentic local flavors and dishes, you can add a flavorful twist to your honeymoon that will leave you salivating and reminiscing for years to come.
Get Out and Explore! Participating in Activities on Your Honeymoon
Once the travel plans are settled and the budget is set, it's time to start thinking about what activities you want to do on your honeymoon – and these don't have to break the bank! This is your chance to see and do things you've always dreamed of, whether that's hiking to the highest peak or taking a cooking class and learning to make paella.
One of my favorite ways to truly immerse ourselves in the local culture is to attend a festival or event that's happening while we're there. This doesn't just give us an unforgettable experience, it also gives us a chance to see the different customs and traditions firsthand. On my last honeymoon, my husband and I attended a traditional dance performance with locals and it was a highlight of our trip.
Another way to get out and be active is to take advantage of any natural resources in the area. Whether that's a nearby beach, hiking trails, or even just a beautiful park, your honeymoon is a great time to spend some quality time outdoors. We love to rent bikes and explore the city on two wheels or even try a new outdoor sport like paddleboarding!
And don't forget about unique opportunities to learn and create together. Some of my favorite memories from past trips have been taking a cooking class or trying a new craft with my partner. Not only do we get to learn something new, but it's also a great bonding experience.
Ultimately, what you choose to do on your honeymoon is up to you! But by participating in activities and trying new things, you'll create memories that will last a lifetime.
Wrap It Up: Tips for a Memorable (and Affordable) Honeymoon!
Well folks, there you have it – my expert advice for how to have a budget-friendly honeymoon that's still chock-full of unforgettable experiences! Remember, the most important part of this trip is spending time with your new spouse and creating lasting memories together. Here are some key takeaways:
First things first – do your research! Spend time looking into different destinations and finding deals and discounts. Create a budget and stick to it! You don't want to start your new life together with a mountain of debt.
When it comes to accommodations, don't be afraid to think outside the box. Hostels and Airbnb rentals can often save you big bucks. And don't forget about websites like Hotwire for finding great deals on hotels.
Transportation can be a big expense on any trip, so make the most of public transportation options and look into renting a car if it makes sense for your itinerary. And don't forget to explore nearby cities and attractions – you might be surprised what you can discover just a short drive away.
Food is another big expense, but don't worry – eating at local restaurants, shopping at markets, and even cooking meals together can be both budget-friendly and a lot of fun. And don't forget to try the local cuisine – it's all part of the cultural experience!
Finally, don't be afraid to get out and participate in local activities, whether that means exploring nearby culture, hiking or biking trails, or visiting museums. Remember, the most important part of your honeymoon is just being together and enjoying each other's company.
So there you have it – my top tips for having an amazing honeymoon without breaking the bank. I hope you find these tips helpful and that you have a wonderful time celebrating your love for each other!