Selecting the Perfect Wedding Venue
Planning a wedding is no mean feat. It requires organization, skill, and the ability to envision what the perfect day will look like. With so much effort and attention to detail poured into the day, it's just as important to pick the right venue.
Finding the perfect place for your big day isn't as simple as making sure there's enough room to fit all of your guests, although that's certainly a major factor. There's also ambience, catering, and cost to consider—plus, of course, personal preference.
Factors to Consider when Selecting a Wedding Venue
If you're hopin' to tie the knot in style, there are a few key factors to consider when choosing your perfect wedding venue. Firstly, location. It's gotta be convenient for all your guests, so think about distance and transport links. Then ask yourself: is it the size you're after? Whether you're after a grand event that packs the dancefloor or an intimate affair in a more cosy space, make sure the venue can accommodate.
Don't forget ambience — unless it's ultra-modern, go and visit the spot before you book. Atmosphere matters, and it'll come through in all those wedding pics you'll be framin'. Catering-wise, if you plan on doing a sit-down meal, check out the kitchen facilities and make sure they've got what you need. Last but not least — cost. Come up with a budget and stick to it!
The Most Essential Factor in Choosing a Wedding Venue: Personal Preference
It goes without saying that when it comes to selecting the perfect wedding venue, you have to prioritize having an enjoyable experience. Sure, there are many factors to consider – such as size, location, cost and catering – but it all boils down to what you want for your special day. After all, no one knows you better than yourself.
When scouting out venues, think about what type of occasion you're hoping for, and what will make it most memorable for you and your guests. Is there an outdoor component you'd love? Are you looking for something more traditional or maybe something a little more modern? Do you prefer a smaller, more intimate setting, or do you want a large space where you can host all of your family and friends? Once you've nailed down what kind of vibe you're going for, you can start looking at different options that fit that bill. Then it's just a matter of weighing the pros and cons of each one.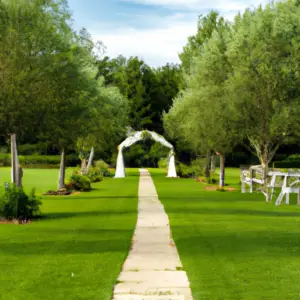 At the end of the day, the most important factor in finding the right venue for your nuptials should be taking into account what works best for you. Don't feel pressured by what others may be suggesting – remember, it's your day, and so the choice has to be yours. Once you make the decision, then you can start diving into the details and figuring out how to make all the other pieces work together.
So don't forget: When it comes to selecting a wedding venue, personal preference reigns supreme!
Wrapping Things Up
Choosing the right venue for your wedding is one of the most important decisions you'll make when it comes to planning your big day. When considering all the factors, personal preference is key. Location, size, ambience, catering, and cost are all important details that should be taken into account when searching for a venue. Taking the time to research different locations and comparing several venues is essential for finding the perfect place. Now that you know what to look for, you're sure to find your dream spot!
FAQs About Wedding Venues
What is the most important thing in planning a wedding?
Choosing the perfect wedding venue is one of the most key decisions you'll make when planning your big day. As a couple, you should take into account a number of factors, including style, size, and budget. But, in my opinion, the most important factor to consider is the atmosphere.
Creating a warm, comfortable ambiance is essential to the success of your wedding. You want your ceremony and reception to be an emotionally charged, celebratory occasion. That means you should look for a venue that offers the right balance of grandeur and intimacy.
Think about ways the venue can contribute to the overall feel of the day. If your style leans more towards classic and romantic, consider a grand old-world ballroom or a garden setting. On the other hand, if your style is more modern and edgy, a sleek, urban loft or hotel banquet hall may be just the place.
No matter which venue you choose, make sure it has a special energy that suits the personalities and taste of you and your would-be spouse. After all, your wedding should be a reflection of your unique love story, and the venue will be the stage for your special day.
What are three most important things for wedding?
When it comes to selecting a wedding venue, there are three major components to consider: the location, the size and the atmosphere. The location of the venue is key. It must be accessible to both the wedding party and the guests, as well as provide a beautiful backdrop for the special day. Size matters too; the venue should easily accommodate all of the expected guests. Make sure to measure out the space if possible to ensure that everyone will fit comfortably. Last but not least, atmosphere is so crucial. You want the venue to reflect the love and the joy of the wedding, and have the energy to match. Incorporate colors, textures, and decorations to create a space that truly represents the style of the event.
What is the most important part of a wedding?
When selecting a wedding venue, I believe the most important factor to consider is the atmosphere. Does the place create a feeling of warmth, joy, and intimacy between the couple and their guests? Wedding venues come in all shapes and sizes, but none of them can compare to the feeling that a warm, inviting, and personal atmosphere can bring. It's essential to pick a place that reflects the couple's style and will make their guests feel comfortable and welcome. To do that, couples should look for a place that is well-designed, has plenty of natural light, ample seating, and plenty of space for people to mingle and enjoy themselves. Other factors to consider when choosing a venue include the availability of catering services, any special requests or amenities, and how much the couple can afford to pay. In the end, if all of these elements come together to create a positive atmosphere, then the couple can be sure to have a magical wedding day!