Planning a Funeral The Ultimate Checklist
Get Your Checklist Ready: It's Time to Say Goodbye – Planning a Funeral
Are you preparing to say goodbye to a loved one? First of all, please accept my condolences. It's never easy to let go of someone we love. As a funeral planner with years of experience, I understand the importance of taking care of everything when it comes to planning a funeral. Don't worry though – I'm here to help guide you through the process from start to finish. Let's get started with an overview of what's involved in planning a funeral.
When you're planning a funeral, it can seem like there's so much to do. But don't worry, you can simplify the process by breaking it down into smaller, manageable tasks. The first step is pre-planning. This involves deciding on the type of service you want, choosing a funeral home, selecting burial or cremation, notifying family and friends, and creating an obituary.
Once you've finished pre-planning, it's time to move on to making funeral arrangements. Finalize the service details, select a cemetery, decide on transportation arrangements, select pallbearers, and choose music for the service. These are all important details that must be taken care of, so make sure you give them the attention they deserve.
Finally, it's time to complete the last tasks – plan a reception, collect photos for a memorial display, prepare a guest book, order flowers or other gifts, and select clothing for the deceased. These are all details that need to be taken care of, but don't worry – I've got lots of tips and tricks to help make it easier for you.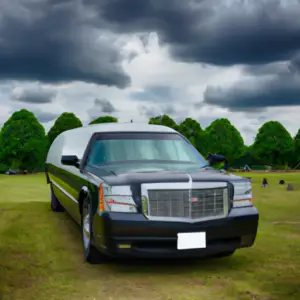 Remember, it's important to plan a funeral that reflects your loved one's life and personality. It's also important to make practical decisions that fit your budget. For tips on saving money when planning a funeral, check out this resource.
As we wrap up this introduction, I hope you feel less overwhelmed and more prepared to plan the perfect farewell for your loved one.
Pre-Planning: The First Step in Saying Goodbye
When it comes to planning a funeral, I've learned that pre-planning is an essential first step. Pre-planning involves making decisions about the service and notifying the necessary people. It can be tough to think about, but pre-planning ensures that your loved one's wishes are met and saves you and your family from making difficult decisions during an emotional time.
During the pre-planning phase, it's crucial to decide on the type of service you want. This can include a visitation, funeral service, a celebration of life ceremony, or a combination of these. Once you have an idea of the type of service you want, you can begin researching funeral homes that will accommodate your needs and budget.
If you're considering burial, you'll need to select a cemetery, and if you're considering cremation, you will need to decide what to do with the ashes. You should also consider notifying close family and friends about your loved one's passing and create an obituary to share important details about their life and passing.
Pre-planning may seem daunting, but it is an important step in saying goodbye to your loved one. By taking care of the practical details, you'll be able to focus on your grief and cherish the memories of your loved one.
Funeral Arrangements: Finalizing the Details
Planning a funeral is an emotional and difficult experience that requires attention to detail and a clear understanding of the deceased's wishes. Once you have made the major decisions regarding the funeral, it's time to finalize the details of the service.
At this stage, you will need to select a cemetery and arrange transportation for the deceased to the cemetery or crematorium. You will also need to choose pallbearers and decide on the music that will be played during the service.
In terms of the service itself, you will want to ensure that everything is arranged to your satisfaction, including the choice of officiant, order of service and any readings or speeches that will take place. It's also important to consider any cultural or religious traditions that need to be observed.
Finally, now is the time to consider any additional items that you may need for the funeral, such as a reception venue or catering services. Make sure to book these as soon as possible to avoid any last-minute problems.
Remember that your funeral director is there to assist you in making these arrangements and answer any questions you may have. A reputable funeral home will have years of experience in planning funerals and can provide guidance and support at this difficult time.
Gettin' It Done: The Last-Minute Details For Planning A Funeral
Whew! We've made it to the final tasks of planning a funeral. Now it's time to focus on the details that'll make our loved one's service special. Follow me as I go through the ultimate checklist of last-minute tasks:
Plan a Reception
After the service, it's common to have a reception to celebrate the life of the deceased and offer condolences to the family. Decide where you'll hold the reception and what kind of food and beverages you'll have. Keep it simple or go all-out – it's up to you.
Collect Photos for Memorial Display
A memorial display is a great way to honor the life of the deceased. Collect photos that capture their personality and life events. Choose a few favorites to be displayed prominently or create a digital slideshow to showcase them all.
Prepare a Guest Book
A guest book is a wonderful keepsake for the family to hold onto long after the service is over. It's a great way for friends and family to share memories and offer condolences. Make sure to provide a pen and sign-in table at the service.
Order Flowers or Other Gifts
If you want to send flowers or other gifts like memory stones or candles, now's the time to order them. Make sure they'll arrive in time for the service and choose something that you know the deceased would have loved.
Select Clothing for the Deceased
If you're responsible for preparing the deceased's body for the service, select clothing that they would have felt comfortable and confident in. Make sure it's clean and ironed before laying them to rest.
There you have it – the final tasks for planning a funeral. Take your time and don't forget to ask for help if you need it. And most importantly, remember to celebrate the life of your loved one in a way that feels true to their memory.
My Final Checklist for a Funeral
Well, folks, we've come to the end of our funeral planning journey. It's been a tough road, but with this final checklist, we can make sure we've covered all our bases.First on the list is planning a reception. After the service, people will want to gather and share stories about the deceased. Selecting a venue and arranging food and drinks will help create a warm and welcoming atmosphere.Next, it's important to collect photos for a memorial display. Old pictures and cherished memories can help loved ones cope with their loss and celebrate the life of the departed. Preparing a guest book is also a nice touch; it gives attendees a chance to leave a message for the family and serves as a record of the event.If you're considering sending flowers or gifts, now is the time to do it. It's important to choose something that reflects the personality of the deceased and shows how much they meant to you. Finally, selecting clothing for the deceased is a poignant and personal decision. Choose something that honors their style and individuality.Hopefully, after reading this checklist, you feel confident that you've covered everything in planning a funeral. Remember, the most important thing is to create a meaningful and respectful goodbye for your loved one.