Accessories: The Little Details That Make a Big Statement
When it comes to the art of accessorizing, it's all about the little things. From chunky necklaces to floppy hats, incorporating the right accessories can take your look from blah to BAM! in an instant.
But why are statement accessories so important? Well, they make any outfit unique and add some extra pizazz. It's like adding the cherry on top of the sundae—it may be small, but it packs a flavorful punch. Plus, accessories are the perfect way to express your individual style without having to buy a whole new wardrobe. They can also transition your look from day to night with minimal effort. Need I say more?
Don't get me wrong, finding the perfect pieces to rock takes a bit of work. But once you master the art of accessorizing, you'll be turning heads wherever you go. So if you're ready to flaunt your own signature style, read on for some easy tips that will help you make a major statement.
Types of Statement Accessories
From experimenting with new looks to elevating a classic look, accessories allow us to express our individual style and make a statement. But just what types of accessories should you look for when trying to make a bold fashion statement? Let's take a look!
Nothing will give you the power to stand out from the crowd quite like a dramatic necklace. Whether long and layered or shiny and sparkly, necklaces are a great way to draw attention to your face and show off a little personal flair. With both brightly colored and subtly elegant pieces on the market, there's something for everyone.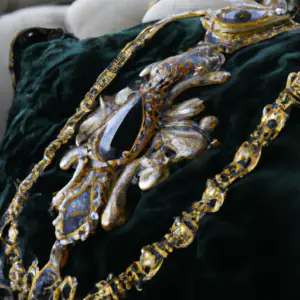 Earrings can also be used to add an eye-catching touch to an outfit. While the right pair can instantly bring life to even the most basic of outfits, don't be afraid to take it up a notch and try more daring styles like oversized hoops or bright statement earrings. It's a surefire way to make a bold fashion statement.
Arm candy comes in all shapes and sizes, from luxe bangles to delicate chain bracelets. A few carefully-placed pieces here and there can transform your look from drab to fab in no time. Go for something eye-catching for maximum impact, like a stack of multi-colored bangles or a gemstone bracelet.
With summer on the way, why not get into the spirit by carrying a brightly-colored bag or purse? Small bags are perfect for carrying your essentials in style, while weekend shoppers and crossbody bags will hold everything you need and make a big impression too. Browse through the different styles out there to find the perfect match for your personality.
Finally, top it all off with a unique hat that shows off your style. From wide-brimmed boaters to fun fedoras, hats are a great way to complete your summer look. And let's not forget the statement-making sunhat, the perfect accessory for a day at the beach or a stroll through town.
Tips for Wearing Accessories to Make a Statement
When you want to be noticed, statement accessories are the way to go. From bold colors and patterns to figuring out the right occasion for your look, there are a few key tips to creating an eye-catching ensemble.
To get started, choose colors or patterns that stand out from the crowd—think neon, leopard print, and anything glittery! If you're unsure of which colors will match, layering different pieces can help create a unique and coordinated look. For instance, try combining a bright bag with a neon necklace and matching earrings.
It's also important to bear in mind the overall theme of your outfit—whether you're going for monochrome or double denim, your jewelry and accessories should fit with the color scheme. Lastly, make sure you're accessorizing for the right occasion; for example, if you're attending a black-tie event, go for something more elegant than a pair of chunky trainers.
So next time you're headed out on the town, don't just pick any old accessory—take these tips into account and really turn heads with your style!
Conclusion
Well, I think we can all agree that accessories are pretty darn important when it comes to making a statement. Whether you're keeping up with the latest trends or thinking more vintage chic, there's no denying that the right pieces have the power to transform your look. From necklaces to hats, different types of accessories give you plenty of options when it comes to being creative and expressing yourself. That being said, you don't want to go overboard: Choose bold colors, experiment with layering and make sure you consider the occasion. After all, you don't want to show up at the office sporting an evening gown!
So, by now you should have some pretty solid tips for wearing accessories and making a statement. By choosin' the right pieces, you can make a huge impact on your look, whether you're going for something casual or formal. Just remember to play around and make sure it reflects your individual style. Trust me, you won't regret it!
FAQs on Accessorize Statements
How do you make an outfit statement?
I'm no fashionista, but when it comes to makin' a statement with your outfit, I'm your man.
First off, challenge yourself to think outside the box. Reach for something unexpected and bold – not just the same thing that everyone else is wearing. Look for unique patterns, textures, and materials that'll make you stand out. Have fun with it, who cares if you get some odd glances!
Secondly, draw attention to the finer details. The little things, like jewelry, scarves, and accessories, can be just as important as the clothes you choose. Keep your ensemble balanced and carefully accessorize to make sure that everything ties together nicely.
Finally, to make your look even more distinctive and memorable, don't be afraid to mix styles. Try mixing a vintage piece with something modern, or combine classic elements with something more edgy and unexpected. This will help you create an outfit that truly reflects your individual style.
In the end, clothing is a form of self-expression, so have fun and enjoy it! With a bit of effort and imagination, you can make an outfit statement that'll turn heads and leave a lasting impression.
What is a statement accessory?
A statement accessory is an item of clothing, jewelry, or footwear that is designed to make a bold statement about a person's style or personality. It's usually bolder, brighter, or more distinct than regular accessories, and can really make an outfit stand out. Statement accessories are great for helping to express a person's creativity, and can be the perfect way to showcase individual style, especially if you're looking for something a bit more daring.
Whether you're a fashion-forward individual or just looking to make a splash, statement accessories can be a great way to spice up your look. You can choose from a wide range of pieces, such as bold jewelry, vibrant scarves, or even statement shoes. Just make sure to pick something that fits your personal style and expresses who you are; after all, it's all about making a statement.
If you're feeling a bit extra daring, you could even go for a unique set of statement accessories. By mixing and matching different pieces, you can create a look that is totally unique to you. Have fun with it, and don't be afraid to experiment a bit – if it looks good, don't be afraid to rock it.
What accessories make you look attractive?
I'm sure everyone has their own idea of what looks attractive, but in my experience, the right accessories can really help make an outfit. A great way to brighten up a look is to add a stylish scarf or statement neckpiece. A sleek leather belt, a fashionable hat, or even a fun pair of sunglasses can go a long way in making your outfit look put together and on trend. When it comes to watches and bags, these can also help to elevate an ensemble – an eye-catching watch or an elegant designer bag can add an extra touch of sophistication.
Shoes can also be a great way to complete an outfit. Going for a pair of stylish heels or bold boots can be a fun way to add some edge to a simple look. If you're looking for something a bit more subtle, some classic loafers or stylish sandals can be a great option. Don't forget: the right accessories can make all the difference!
how to wear accessories to make a statement
Making a statement with your accessories is all about being creative and putting personal touches on your outfits. Depending on what kind of statement you're looking to make, there are a few things you can do to make it happen.
First and foremost, choose pieces that are a bit unexpected. Whether that means wearing a statement necklace, chunky earrings, or a unique belt, the goal is to find an accessory that expresses something unique to you.
In addition, pay attention to color! Be bold with your choices and stick to colors that reflect your individual style. Wearing bright and even contrasting colors can instantly draw attention to your look.
Finally, don't be afraid to experiment and mix and match. Try pairing a daring necklace with a fun scarf, or layer a few delicate rings on the same hand. The goal is to make the accessory the showstopper, not blend in with the outfit.
So, if you're looking to make a statement with your accessories, be sure to keep these tips in mind. With the right pieces and a little bit of creativity, you'll have no problem turning heads and making a memorable impression.