Best Makeup Brands for All Skin Types
Introducing Makeup and Deciding What's Best
As someone with a keen interest in beauty, I know that the word makeup can mean different things to different people. To me, it's all about having fun with your own unique look and expressing your individual style through cosmetics. And when it comes to deciding what type of makeup is "best", it all depends on what you prefer. Everyone has different needs and wants when it comes to their make up and there isn't one specific answer. In this blog post, I'll be talking about why wearing makeup can be beneficial, exploring various skin types, discussing how to find the perfect makeup for your skin type, and finally looking at what some of the top makeup brands out there are. So, let's dive in!
Benefits of Wearing Makeup
If you love to look and feel your best, then makeup is a must. From giving you an extra boost of confidence, to enhancing your natural beauty, there's no denying the perks of putting some makeup on. But first, let's break it down: what is makeup? Well, makeup is any product that is applied to the face in order to enhance or alter one's appearance. Whether you use a full face of makeup every day, or just like to wear some mascara now and again, it can do wonders for how you see yourself.
Not convinced? Here are just a few of the many benefits of wearing makeup.
First up, a little makeup can make a huge difference when it comes to masking problem areas. Got dark circles under your eyes? Maybe some spots you don't want people to notice? Makeup allows you to easily conceal these blemishes so that you can show off your complexion with confidence.
Another great thing about makeup is that it boosts your mood. When you look good, you feel good – and wearing makeup can help you feel fantastic! Even if you just turn to your favorite lip color for a simple pick-me-up, seeing yourself look fabulous will have you feeling pretty satisfied.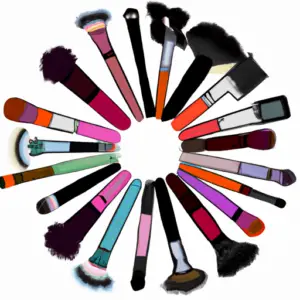 Finally, wearing makeup also gives you the opportunity to express who you are. We all have our own unique sense of style, and makeup is the perfect way to show it off. Whether it's subtle and classic, bright and bold, or somewhere in between, you can use different colors, textures, and techniques to create stunning looks that represent your individual vibe.
Different Types of Skin
From oily to combination and dry, there are tons of different skin types out there. But which one is yours? It's important to figure that out so you can find the makeup that'll give you the best results.
Let's start with the basics: Oily skin is usually characterized by large pores, shiny areas and sometimes pimples. Not fun. On the other hand, dry skin is usually tight, flaky and often feels itchy or irritated. Combination skin can be a combo of both – an oily T-zone (forehead/nose/chin) and drier cheeks.
When shopping for makeup, it pays to know your skin type. That's because different products will work best on different kinds of skin. Certain formulas may clog pores and cause breakouts in those with oily skin, while dry skin needs a lighter touch. Finding the right product takes some trial and error, so don't be afraid to experiment a bit!
Finding Makeup for All Skin Types
Whether you've got dry, oily, sensitive or mature skin there's a makeup out there for you! Finding just the right one isn't as hard as you think – you just need to know what to look for. Here are a few suggestions to help you pick the best makeup for your complexion.
First off, start with natural ingredients. Go for products that contain natural moisturizers like shea butter and olive oil, which will help keep your skin hydrated and healthier overall. You should also check if the product is hypoallergenic before you make any purchases – choose only those specifically tailored to sensitive skin, such as those that contain aloe vera, chamomile, or witch hazel.
Second, look for noncomedogenic formulas. These are especially great if you have oily skin, since they won't clog your pores and cause breakouts. Examples include silicone-based foundations which create a weightless, breathable barrier over your skin. Or even better, go for lightweight tinted moisturizers that stay dewy all day.
Finally, don't forget about foundation primers! Not only do primers work to smooth out any fine lines and wrinkles, but they can also help your makeup last longer. Look for those that include ultra-hydrating ingredients like glycerin and hyaluronic acid to get a flawless finish.
Tapping into these tips can help you find the perfect makeup for all skin types! With the right product, you can face the day confidently – looking naturally beautiful and well put together.
Makeup Brands That Experts Swear By
Gone are the days of trial-and-error when it comes to finding the best makeup brands. Nowadays, there's a much easier way to pick out beauty products that work—turn to the experts! We asked around and got the inside scoop on which makeup brands are "must haves" among beauty junkies, cosmetics pros, and anyone who likes to look their best.
When it comes to makeup, everybody's gotta show love to M.A.C. It's no secret why: the colors are poppin', the formulas are creamy–it's just all-around quality stuff! If you're looking for a more natural look, try one of their mineral-based lines. Another brand is Avon, where you'll find the latest in chic color combos and long lasting lipsticks. Also, don't forget about L'Oreal, they have a wide selection of foundations, plus their mascaras are unbeatable.
If you want something bold and daring, the bright eyeshadows and shimmery glosses from CoverGirl can't be beat. For inspiration, check out the looks of beauty blogger Jackie Aina and how she rocks her products. For special occasions, Urban Decay has been known to do wonders; just take a peek at their glittery palettes if you don't believe me.
As you can see, there's no need to waste time searching for great makeup—whatever your style, there's a brand perfect for you. Get creative and experiment with different shades and textures; it's all about having fun with your beauty routine!
In Conclusion: All You Need to Know about the Best Makeup Brands!
It's been a journey, hasn't it? We've gone from defining makeup, discussing different types of skin, and reviewing hypoallergenic formulas. And now that we're wrapping up, here's the last word on finding the best makeup brands.
When it comes to choosing a makeup brand, there are lots of things to consider. First, natural ingredients are always a plus—they'll make your skin feel better and really nourish it. Then there are hypoallergenic and noncomedogenic options, which can be great for more sensitive skin. Finally, look into the reputation of the company. Do they have reviews? A satisfaction guarantee? Any awards? All of this should factor into your choice.
At the end of the day, it's all about finding makeup that works best for you. And if that means sampling a few different brands before settling on the one you like, then do that. After all, 'variety is the spice of life!' So make sure to keep these tips in mind when shopping for cosmetics and shop around for what works best for you. Thanks for coming along for the ride!
FAQs About Makeup Brands
Which brands of makeup are good for your skin?
From my experience, when it comes to makeup and finding something that works for all skin types, it's best to go with a brand that's well known for their quality and consistency. I'm talking about brands like NARS, Laura Mercier, Urban Decay, and Benefit Cosmetics. These brands have been around for a while, and they all offer products specifically designed to work on all skin types.
For example, NARS has their Sheer Glow foundation, which is lightweight and hydrating, and Laura Mercier has their famous Tinted Moisturizer, which adds a subtle glow to the skin. Urban Decay offers their popular All Nighter Liquid Foundation, perfect for oily skin, and Benefit Cosmetics has their Hello Flawless foundation, which provides a natural-looking matte finish.
In addition, all of these brands offer an array of makeup products from eyeshadows, blushes, and lipsticks to highlighters and bronzers. With so many options, you're sure to find something that is perfect for your skin type.
So, whether you have dry, oily, or combination skin, I highly recommend you check out these top makeup brands for all skin types.
Which makeup brand is best for daily use?
Well, as someone deep within the beauty industry, my go-to recommendation is Thrive Causemetics. It's quickly becoming known for its high-quality makeup that is specifically tailored to all skin types. Not only is their makeup richly pigmented and long-lasting, but it also contains rich and powerful antioxidants and natural botanicals that help nourish and protect the skin. Plus, they are a cruelty free and vegan cosmetics brand, so you know you're getting quality products that are safe to use. All in all, you can't go wrong with Thrive Causemetics.
Which is the best makeup brand in world?
As someone who has spent a lot of time researching makeup, in my opinion, the best brand for all skin types is MAC Cosmetics. Not only do they have an extensive line of products that cater to different skin types, but they also offer a wide range of shades to match any skin tone. From foundations to highlighters, they have something that can help everyone look their best. Plus, they offer quality products at an affordable price. Plus, their makeup artists are incredibly knowledgeable, so they can give you the best advice on what works for your skin and which products will work best.
Furthermore, MAC's products also have a reputation for being non-irritating and gentle on the skin. This is especially important for those with sensitive skin, who need to take extra care when choosing makeup products. And if you're ever unsure about a product, you can always ask one of the knowledgeable makeup artists at a MAC counter for advice.
Overall, I believe MAC is the best brand for all skin types,as their products are both affordable and top quality. They also offer a wide selection of shades and can match any skin tone, so everyone can find their perfect makeup. Plus, their makeup artists are incredibly knowledgeable and helpful, so you can always get the best advice.